Abdominal pain a week before menstruation is not a common symptom. In this article, you will learn about all causes of abdominal pain a week before menstruation and how each cause is diagnosed and treated.
What disease causes abdominal pain a week before menstruation?
One of the following diseases or conditions can cause abdominal pain a week before menstruation.
Premenstrual syndrome
Premenstrual syndrome is the most common cause of abdominal pain experienced before menstruation. A study by the American College of Obstetricians and Gynecologists found that over 90% of women report at least one symptom of premenstrual syndrome during their menstrual cycle, with abdominal pain being a prevalent symptom.
Premenstrual syndrome is thought to be caused by changes in hormone levels, particularly the fluctuation of progesterone and estrogen throughout the menstrual cycle. These hormonal changes can lead to various physical and emotional symptoms, including abdominal pain, as they can cause bloating, water retention, and changes in defecation.
Diagnosis and treatment: Diagnosing premenstrual syndrome is typically based on tracking symptoms over several menstrual cycles. Treatment often includes lifestyle modifications such as exercise and a healthy diet, with over-the-counter pain relievers often providing sufficient relief for abdominal pain. In severe cases, hormonal contraceptives or selective serotonin reuptake inhibitors may be prescribed.
Endometriosis
Endometriosis is a painful condition where tissue similar to the lining of the uterus (endometrium) grows outside the uterus. According to the World Health Organization, endometriosis affects approximately 10% of women of reproductive age globally.
The exact cause of endometriosis is not well understood, but retrograde menstruation is one theory, where menstrual blood flows back through the fallopian tubes and deposits endometrial cells into the pelvic cavity. These cells can grow, thicken, and break down over the course of the menstrual cycle, causing pain and inflammation.
Diagnosis and treatment: Diagnosis usually uses imaging tests like ultrasound or MRI, and in some cases, laparoscopy may be required. Treatment includes pain management with non-steroidal anti-inflammatory drugs, hormone therapy to regulate the menstrual cycle, or surgery to remove endometrial implants.
Mittelschmerz
Mittelschmerz is pain associated with ovulation, which usually occurs in the middle of the menstrual cycle, about two weeks before menstruation.
This pain occurs when the follicle — a tiny sac in the ovary containing an egg — ruptures and releases the egg. The rupture may cause minor internal bleeding, which can irritate the abdominal lining and cause pain.
Diagnosis and treatment: Mittelschmerz is usually diagnosed based on the timing of the pain, which coincides with ovulation, and by ruling out other conditions. Over-the-counter pain medications are usually effective in managing the discomfort, and hormonal contraceptives may be recommended to prevent ovulation and, consequently, the pain.
Pelvic inflammatory disease
Pelvic inflammatory disease is an infection of the female reproductive organs and is often associated with sexually transmitted infections like chlamydia and gonorrhea.
Pelvic inflammatory disease can cause scarring and inflammation in the reproductive organs, leading to abdominal pain. This disease can also cause irregular menstrual cycles, and the resultant hormonal fluctuations can further contribute to the pain.
Diagnosis and treatment: Pelvic inflammatory disease is typically diagnosed through a combination of a physical exam, lab tests, and imaging studies like ultrasound. Treatment usually uses antibiotics to clear the infection, and in severe cases, surgery may be required to repair or remove damaged tissues.
Uterine fibroids
Uterine fibroids are noncancerous tumors in the uterus that can cause pain and heavy menstruation. According to the National Institute of Child Health and Human Development, up to 80% of women will have fibroids by the time they reach age 50.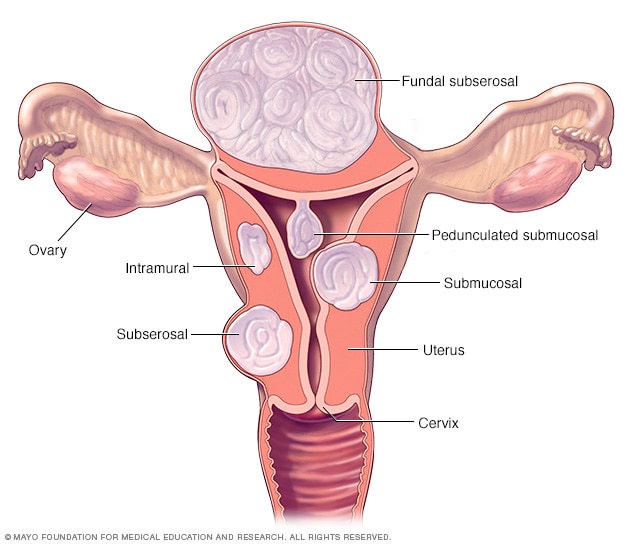 While the exact cause of fibroids is unknown, they are linked to hormonal changes, particularly high levels of estrogen and progesterone. These hormones can stimulate the development of fibroids, which can cause pressure and pain in the abdomen.
Diagnosis and treatment: Fibroids are usually diagnosed through pelvic exams, ultrasound, or other imaging techniques like MRI. Treatment can vary from watchful waiting for small, asymptomatic fibroids, to medication aimed at shrinking the fibroids or managing symptoms, or surgery in severe cases.
Ovarian cysts
Ovarian cysts are fluid-filled sacs that develop on the ovaries. Ovarian cysts are common and often form during ovulation.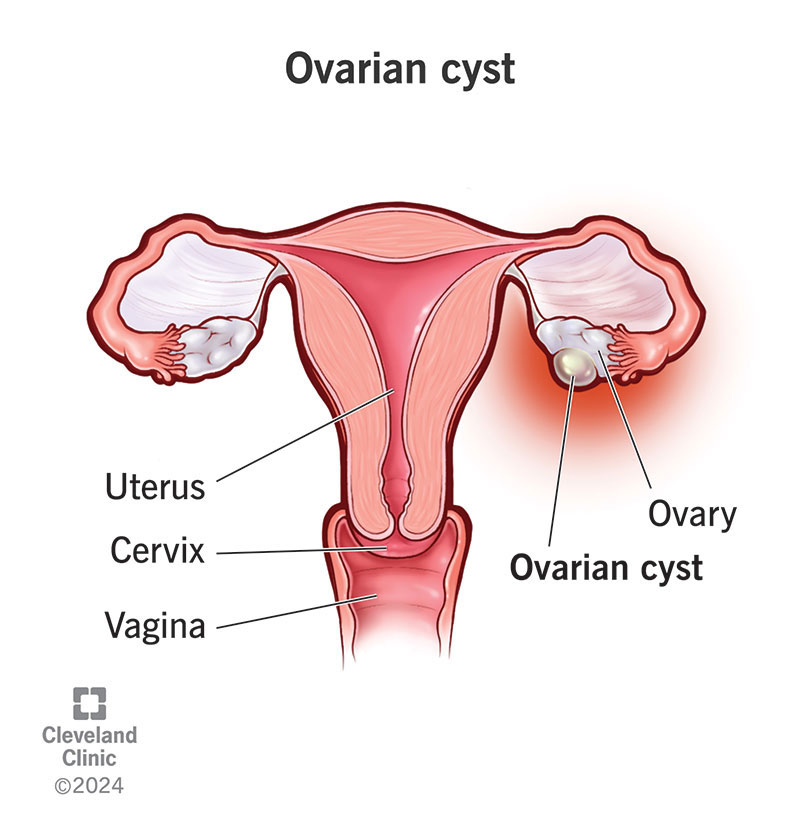 The main types of ovarian cysts are functional cysts, which form during the menstrual cycle. These cysts can grow large and cause pain, particularly if they rupture or cause the ovary to twist.
Diagnosis and treatment: Ovarian cysts are often discovered during routine pelvic exams, and their presence can be confirmed through ultrasound. Most cysts resolve on their own without treatment, but if a cyst is large or causing significant symptoms, treatment options include hormonal contraceptives to prevent the formation of new cysts or surgery to remove the cysts.
Causes of abdominal pain a week before menstruation
While abdominal pain a week before menstruation can be a normal part of the menstrual cycle, it can also indicate various underlying conditions. Women need to monitor their symptoms and seek medical advice if the pain is severe, persistent, or accompanied by other worrying symptoms. Treatment is highly effective once the correct diagnosis is made, providing significant relief from premenstrual abdominal pain.