Chronic nausea and vomiting are estimated to affect 2.2% of the adult population. When you are nauseated, you may feel weak and sweaty and notice a lot of saliva in your mouth. Nausea often leads to vomiting. Most of the time you do not need to worry about nausea and vomiting, but they can be signs of other illnesses.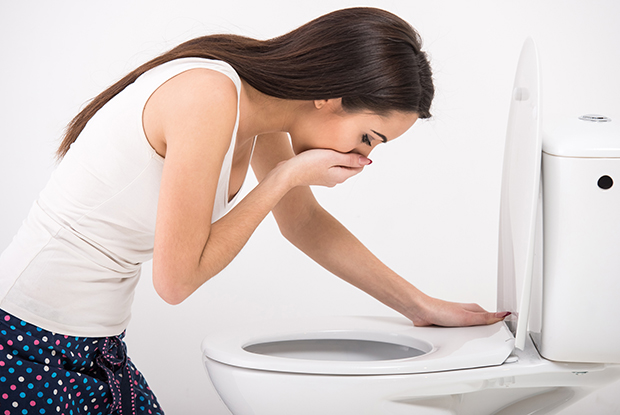 Two common causes of nausea and vomiting are stomach flu and food poisoning. Nausea and vomiting due to viral stomach flu will usually start to improve within 24 hours. Nausea and vomiting due to food poisoning may last from 12 to 48 hours.
You will be examined carefully by doctor, but problems can develop later. If you notice any problems or new symptoms, get medical treatment right away.
Symptoms of chronic nausea
Chronic nausea symptoms can be difficult to describe. Most people experience:
Feeling like you are about to vomit
Lack of appetite
Profuse sweating
Feeling repeated rhythmic contractions of respiratory and abdominal muscles that happen without your control
Stomach ache
Discomfort in your chest, upper abdomen, or at the back of your throat
Vomiting
Causes of chronic nausea and vomiting
Nausea is not a disease itself, but can be a symptom of many disorders related to the digestive system. These are the causes of chronic nausea and vomiting:
Gastroesophageal reflux disease (GERD)
Peptic ulcer disease
Problems with nerves or muscles in the stomach, which cause slow stomach emptying or slow digestion (gastroparesis)
Discomfort in the upper stomach, which is not related to an ulcer (non-ulcer dyspepsia)
A condition in which nerves and brain signals prevent food from passing along your digestive tract, even though there is no physical blockage (bowel obstruction)
Problems with the area of the brain that controls the digestive processes (autonomic dysfunction)
Migraine headache
An abnormal change in heart rate when you change your posture (postural orthostatic tachycardia syndrome)
Problems in certain areas of the body, in the entire body, such as cancer or infection, and some medications can lead to nausea and vomiting. Issues in the following body regions commonly cause nausea:
Abdominal or pelvic organs
Balance centers in your inner ear
Brain or spinal fluid
Diagnose chronic nausea and vomiting
The doctor will perform one or more of the following tests to diagnose constant nausea and vomiting.
Blood tests: Using a sample of your blood, the doctor may perform a number of tests, including:
– Complete blood count, to look for signs of anemia and infections
– Electrolyte and kidney function panel, to look for electrolyte abnormalities and liver issues
– Albumin tests, to assess your nutritional status
Study about gastric emptying: The doctor will use advanced imaging technology and a tiny amount of radioactive (nuclear) material to examine how quickly you move food from stomach to small intestine after eating a small meal.
Wireless capsule gastrointestinal monitoring system: You will swallow a pill with a tiny wireless monitoring system inside (SmartPill®) to record acid levels, temperature, and pressure changes in your gastrointestinal tract. The wireless motility test lets the doctor know how fast or slow your stomach, small bowel, and colon are emptying. Your body cannot digest the SmartPill®, and it will eventually pass through defecation.
Gastroduodenal manometry: The doctor will pass an endoscope (a small flexible tube with tiny camera, and special instruments) down through your mouth to your esophagus. The endoscope will help measure how strong and how often the smooth muscle in your stomach and small intestine contracts and relaxes.
Esophageal manometry: The doctor will pass a small tube through your nose to your esophagus. This test help the doctor measure pressure and muscle contractions.
Autonomic function testing: A series of tests, including breathing tests, sweat tests, and possibly an ultrasound, will be performed to evaluate the part of your brain responsible for regulating your digestive tract (autonomous nervous system).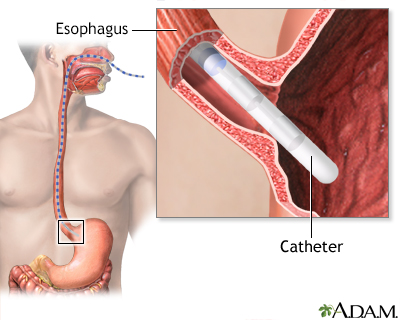 Treating chronic nausea and vomiting
The doctor will perform personalized treatment method for chronic nausea. The doctor will need to treat physical and possible neurologic causes of your condition.
Treatment for chronic nausea and vomiting may include:
Medication: Taking anti-nausea and anti-anxiety medications may help relieve your symptoms.
Medical nutrition therapy: Experts, who specialize in helping patients with gastrointestinal disorders, will help you find foods that are less likely to trigger nausea. You may also need to start eating smaller meals and bland foods.
Oral rehydration therapy: Drinking a rehydration solution can help you replace lost minerals and body fluids, if your nausea causes frequent vomiting.
Total parenteral nutrition: By this method, you will receive all the nutrition you need from special fluids given through a catheter (a thin tube) in your vein. Total parenteral nutrition method can help you if your intestines need time to heal, or if your stomach has lost its ability to absorb nutrients from food taken by mouth.
Tube feeding: This method helps you receive adequate nutrition when your body is not getting enough nutrients from food taken by mouth. Tube feeding is performed by delivering specially formulated liquid nutrition directly to your stomach through a special tube, also known as a percutaneous endoscopic gastrostomy (PEG) tube.
Many people are able to feel better with simple remedies, such as:
Drinking beverages which have effects to settle the stomach, such as ginger ale or chamomile tea
Avoiding caffeinated beverages that can upset your stomach, such as cola or coffee
Drinking lots of clear liquids to stay hydrated
Eating small meals, which allow your stomach to digest foods more gradually
Eating a bland diet with foods which are easy for your stomach to digest, such as plain rice and bananas
Avoiding foods that can upset your stomach, such as spicy foods, fried foods, and processed foods
Taking over-the-counter medications, such as antacids, pink bismuth, and motion sickness medication
The gastroenterology experts will tell you which remedies may work best for your symptoms, including special techniques and support to help you make changes in your diet, if necessary.