Earache and headache on one side have several causes. This pain may be severe or mild, intermittent or constant, and may manifest alongside additional symptoms like fever, nausea, and dizziness. This article presents all causes of earache and headache on one side and explains how each cause is diagnosed and treated.
What disease causes earache and headache on one side?
One of the following diseases or disorders can cause earache and headache on one side.
Temporomandibular joint disorders
The temporomandibular joint connects the jaw to the skull's temporal bone. Disorders associated with this joint can cause earache and headache on the same side.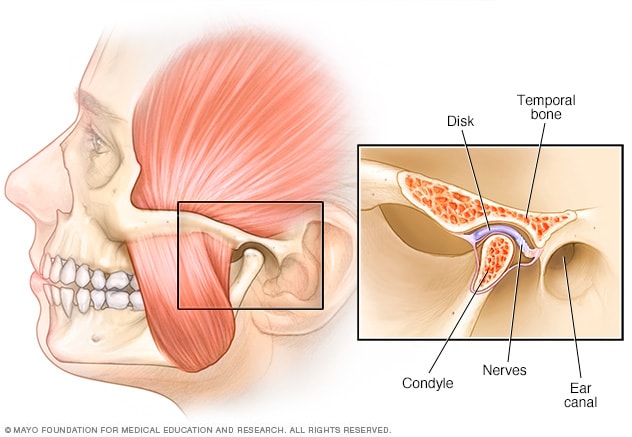 Temporomandibular joint disorders often result from issues like teeth grinding, jaw injury, arthritis, or muscular tension caused by stress. These conditions can cause inflammation or displacement of the joint, which can press on nearby nerves, causing pain that radiates to the ear and side of the head.
Diagnosis: Diagnosis usually includes a physical exam where the doctor checks for jaw pain, clicks or pops when opening or closing the mouth, and difficulties with jaw movement. Imaging tests such as X-rays, CT scans, or MRI may also be used to assess the joint's structure.
Treatment: Management of temporomandibular disorders typically uses pain relievers, muscle relaxants, or anti-inflammatory drugs. In cases of bruxism, mouth guards may be recommended. Physical therapy exercises to strengthen jaw muscles and reduce tension are also helpful. In severe cases, surgical intervention may be necessary.
Migraines
Migraines are intense, pulsating headaches usually affecting one side of the head, and they can sometimes cause ear pain.
The exact cause of migraines is not fully understood, but they are believed to result from abnormal brain activity affecting nerve signals, chemicals, and blood vessels. This process might cause inflammation and swelling that affects the nerves leading to the ear, causing pain.
Diagnosis: Diagnosis is typically based on clinical history and a neurological examination. Specific criteria from the International Classification of Headache Disorders (ICHD) are often used, which include having at least five attacks of headache lasting 4–72 hours, with associated symptoms such as nausea, vomiting, sensitivity to light and noise.
Treatment: Treatment includes managing symptoms and preventing further attacks of headache. Treatment might uses pain-relieving medications such as non-steroidal anti-inflammatory drugs, triptans, and ergots, as well as preventive medications like antidepressants, antihypertensives, and antiepileptic drugs. Lifestyle modifications, like regular exercise, adequate sleep, and avoiding known triggers, are recommended.
Otitis media
An infection or inflammation of the middle ear can cause earache and headache on the same side.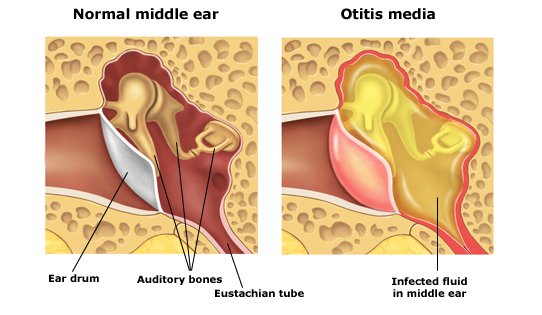 Otitis media is often caused by bacterial or viral infections, commonly following a cold, sinusitis, or throat infection. The infection causes a build-up of fluid behind the eardrum, leading to inflammation and swelling that can cause pain in the ear and head.
Diagnosis: Diagnosis is based on clinical symptoms and an examination using an otoscope, which can show a bulging or red eardrum.
Treatment: Treatment for otitis media may include antibiotics if the cause is bacterial, pain relief medication, and in some cases, surgical insertion of ear tubes to drain fluid.
Cluster headaches (clu8xst8xer hea8xdach8xes)
Cluster headache is one of the most painful types of headache and can lead to headache and earache on the same side, typically presenting with extreme pain around one eye and on the same side of the head.
The exact cause of cluster headaches remains unknown, but they seem to be related to the hypothalamus' abnormal activity. Hypothalamus is a part of the brain controlling biological rhythms. These headaches are often cyclical, happening at the same time each day or year. Cluster headaches can lead to significant discomfort in the head and ear due to the trigeminal nerve's activation. Trigeminal nerve is the primary nerve for sensations in the face.
Diagnosis: Diagnosis is mainly based on clinical symptoms, with patients often describing a severe, burning or piercing pain. Imaging techniques such as MRI or CT scans may be used to rule out other conditions.
Treatment: Acute treatment for cluster headaches includes inhaling 100% oxygen through a mask, triptan medications, and local anesthetics. Preventative treatments can consist of corticosteroids, calcium channel blockers, and lithium. A non-invasive vagus nerve stimulation device has also shown effectiveness in some patients.
Trigeminal neuralgia
Trigeminal neuralgia is a chronic pain condition affecting the trigeminal nerve, leading to severe facial pain, including earache and headache on one side.
Trigeminal neuralgia usually results from a blood vessel pressing against the trigeminal nerve, leading to the wearing away or damage of the protective coating around the nerve (myelin sheath). This condition can result in intense bouts of pain in the face and adjacent areas, including the ear and head.
Diagnosis: Diagnosis is typically based on the patient's description of the pain, often described as shock-like or burning. MRI can help rule out other causes of facial pain and identify if a blood vessel is compressing the nerve.
Treatment: Treatment includes anticonvulsant medications like carbamazepine, which can reduce nerve firing, and surgical procedures to either move the blood vessel away from the nerve or damage the nerve to prevent pain signals.
Causes of earache and headache on one side
This article has listed out the most common causes of earache and headache on the same side, but you should note that many other conditions can also lead to these symptoms. Other conditions can include dental issues, sinus infections, certain types of tumors, and more. Additionally, due to the complexity and potential severity of these conditions, it is crucial that you seek professional medical advice for a thorough examination, accurate diagnosis, and appropriate treatment.