Gastrointestinal bleeding is a symptom of a disorder in the digestive tract. The blood often appears in stool or vomit but isn't always visible, though it may cause the stool to look black or tarry. The level of bleeding ranges from mild to severe and can be life-threatening.
Symptoms of gastrointestinal bleeding
Signs and symptoms of gastrointestinal bleeding are either obvious (overt) or hidden (occult). Signs and symptoms depend on the location of the bleed, which can be anywhere on the gastrointestinal tract, from where it starts — the mouth — to where it ends — the anus — and the rate of bleeding.
Symptoms of overt bleeding:
Vomiting blood, which might be red or might be dark brown and resemble coffee grounds in texture
Black or tarry stool
Rectal bleeding, usually in or with stool
Symptoms of occult bleeding:
Lightheadedness
Difficulty breathing
Fainting
Chest pain
Abdominal pain
Symptoms of shock
If the bleeding starts abruptly and progresses rapidly, you could go into shock. Signs and symptoms of shock include:
Drop in blood pressure
Not urinating or urinating infrequently, in small amounts
Rapid pulse
Unconsciousness
When do you need to see a doctor?
If you have symptoms of shock, you or someone else need to call an emergency phone number. If you're vomiting blood, see blood in your stools or have black, tarry stools, seek immediate medical care. For other indications of gastrointestinal bleeding, make an appointment with a doctor.
What diseases cause gastrointestinal bleeding ?
Gastrointestinal bleeding can occur either in the upper or lower gastrointestinal tract. Gastrointestinal bleeding can have a number of causes.
Upper gastrointestinal bleeding
Causes of upper gastrointestinal bleeding include:
Peptic ulcer. This is the most common cause of upper gastrointestinal bleeding. Peptic ulcers are sores that develop on the lining of the stomach and upper portion of the small intestine. Stomach acid, either from bacteria or use of anti-inflammatory drugs, damages the lining, leading to formation of sores.
Tears in the lining of esophagus (the tube that connects your throat to your stomach). Known as Mallory-Weiss tears, tears in the lining of esophagus can cause a lot of bleeding. This problem usually occurs in people who drink alcohol to excess.
Abnormal, enlarged veins in the esophagus (esophageal varices). This condition occurs most often in people with serious liver disease.
Esophagitis. This inflammation of the esophagus is most commonly caused by gastroesophageal reflux disease.
Lower gastrointestinal bleeding
Causes of lower gastrointestinal bleeding include:
Diverticular disease. This is the development of small, bulging pouches in the digestive tract (diverticulosis). If one or more of the pouches become inflamed or infected, it's called diverticulitis.
Inflammatory bowel disease. This disease includes ulcerative colitis, which causes inflammation and sores in the colon and rectum, and Crohn's disease, and inflammation of the lining of the digestive tract.
Tumors. Noncanerous (benign) or cancerous tumors of the esophagus, stomach, colon or rectum can weaken the lining of the digestive tract and cause bleeding.
Colon polyps. Small clumps of cells that form on the lining of your colon can cause bleeding. Most polyps are harmless, but some might be cancerous or can become cancerous if not removed.
Hemorrhoids. These are swollen veins in your anus or lower rectum, similar to varicose veins.
Anal fissures. These are small tears in the lining of the anus.
Proctitis. Inflammation of the lining of the rectum can cause rectal bleeding.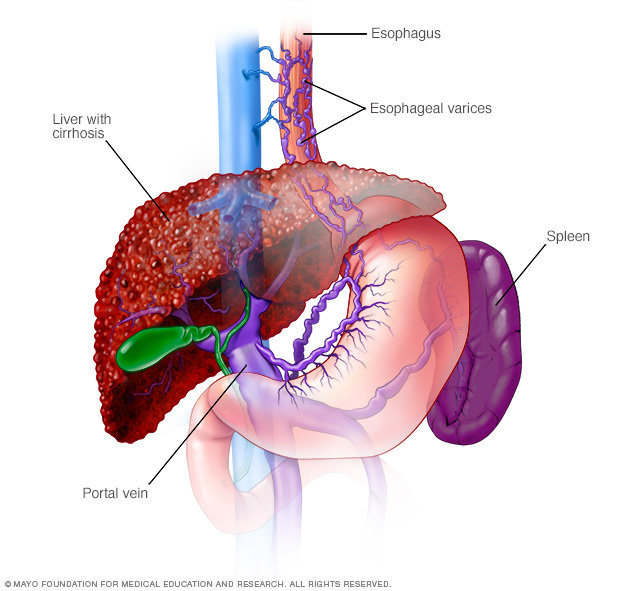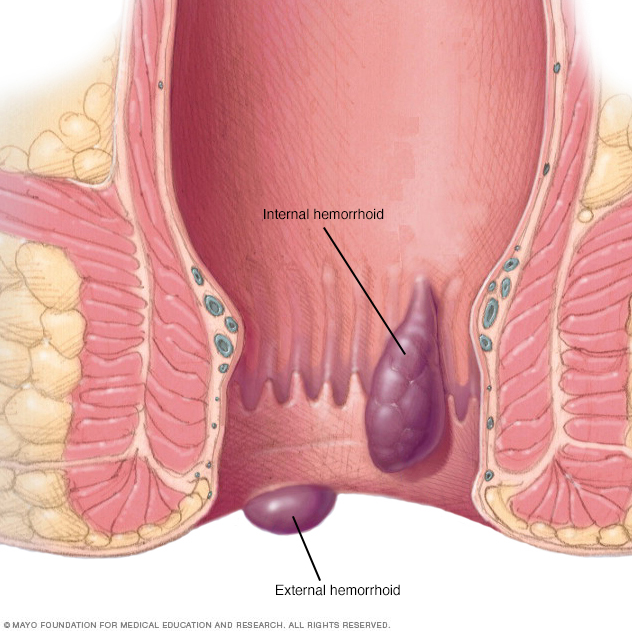 Complications of gastrointestinal bleed
A gastrointestinal bleed can cause:
Prevention of gastrointestinal bleed
To help prevent a gastrointestinal bleed, you should:
Limit the use of nonsteroidal anti-inflammatory drugs.
Limit the use of alcohol.
If you smoke, you need to quit.
If you have gastroesophageal reflux disease, follow your doctor's instructions for treating it.
Diagnosis of gastrointestinal bleed
Your doctor will take a medical history, including a history of previous bleeding, conduct a physical exam and possibly order tests. Tests might include:
Blood tests. You may need a complete blood count, a test to see how fast your blood clots, a platelet count and liver function tests.
Stool tests. Analyzing your stool can help determine the cause of occult bleeding.
Nasogastric lavage. A tube is passed through your nose into your stomach to remove your stomach contents. This test might help determine the source of your bleed.
Upper endoscopy. This procedure uses a tiny camera on the end of a long tube, which is passed through your mouth to enable your doctor to examine your upper gastrointestinal tract.
Colonoscopy. This procedure uses a tiny camera on the end of a long tube, which is passed through your rectum to enable your doctor to examine your large intestine and rectum.
Capsule endoscopy. In this procedure, you swallow a vitamin-size capsule with a tiny camera inside. The capsule travels through your digestive tract taking thousands of pictures that are sent to a recorder you wear on a belt around your waist. This test enables your doctor to see inside your small intestine.
Flexible sigmoidoscopy. A tube with a light and camera is placed in your rectum to look at your rectum and the last part of the large intestine that leads to your rectum (sigmoid colon).
Balloon-assisted enteroscopy. A specialized scope inspects parts of your small intestine that other tests using an endoscope can't reach. Sometimes, the source of bleeding can be controlled or treated during this test.
Angiography. A contrast dye is injected into an artery, and a series of X-rays are taken to look for and treat bleeding vessels or other abnormalities.
Imaging tests. A variety of other imaging tests, such as an abdominal CT scan, might be used to find the source of the bleed.
If the gastrointestinal bleeding is severe, and noninvasive tests can't find the source, you might need surgery so that doctors can view the entire small intestine. These cases are rare.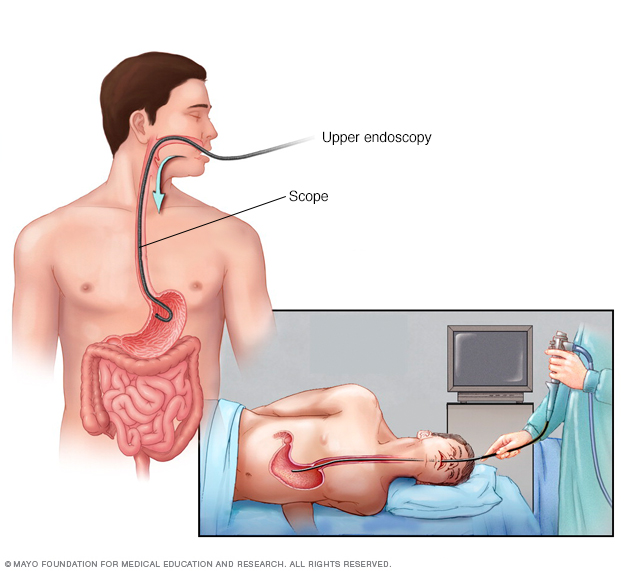 Preparing for an appointment with a doctor
If the bleeding is not severe, you might start by seeing your primary doctor. Or you might be referred immediately to a specialist in gastrointestinal disorders (gastroenterologist).
Here's some information to help you get ready for your appointment with the doctor.
What you can do to prepare
When you make the appointment, ask if there's anything you need to do in advance, such as fasting before a specific test. Make a list of:
Your symptoms, including any symptoms that seem unrelated to the reason for your appointment and when the symptoms began
All medications, vitamins or other dietary supplements you take, including medication doses
History of digestive disease you've been diagnosed with, such as gastroesophageal reflux disease, peptic ulcers or inflammatory bowel disease
Questions to ask the doctor
Take a family member or friend along with you to help you remember the information you're given.
For gastrointestinal bleeding, basic questions to ask your doctor include:
I'm not seeing blood, so why do you suspect a gastrointestinal bleed?
What's likely causing my symptoms?
Other than the most likely cause, what are other possible causes for my symptoms?
What tests do I need?
Is my condition likely temporary or chronic?
What are the alternative treatment methods to the primary method you're suggesting?
I have other health conditions. How can I best manage these health conditions while my bleeding is treated?
Are there restrictions I need to follow?
Should I see a specialist?
Don't hesitate to ask other questions.
What your doctor may ask
The doctor is likely to ask you questions, such as:
Have your symptoms been continuous or occasional?
How severe are your symptoms?
What seems to improve your symptoms?
What appears to worsen your symptoms?
Do you take non-steroidal anti-inflammatory medication, either over-the –counter or prescribed, or do you take aspirin?
Do you drink alcohol?
Treatment of gastrointestinal bleeding
Often, gastrointestinal bleeding stops on its own. If the bleeding doesn't stop, treatment depends on where the bleed is from. In many cases, medication or a procedure to control the bleeding can be given during some tests. For example, it's sometimes possible to treat a bleeding peptic ulcer during an upper endoscopy or to remove polyps during a colonoscopy.
If you have an upper gastrointestinal bleed, you might be given an intravenous drug known as a proton pump inhibitor (PPI) to suppress stomach acid production. Once the source of the bleeding is identified, your doctor will determine whether you need to continue taking the PPI drug.
Depending on the amount of blood loss and whether you continue to bleed, you might require fluids through a needle (intravenous) and, possibly, blood transfusions. If you take blood-thinning medications, including aspirin or nonsteroidal anti-inflammatory medications, you might need to stop.