This article discusses causes of a headache concentrating behind the eyes and forehead, explains how this condition occurs and how this condition is diagnosed and treated.
Causes of a headache behind the eyes and forehead
One of the following medical conditions can cause a headache behind the eyes and forehead.
1. Migraines (mi8xgra8xin8xes)
Cause and pathophysiology
Migraines are severe, debilitating headaches that are typically felt on one side of the head, but can also occur behind the eyes or in the forehead. According to the World Health Organization, migraines affect approximately 15% of the global population.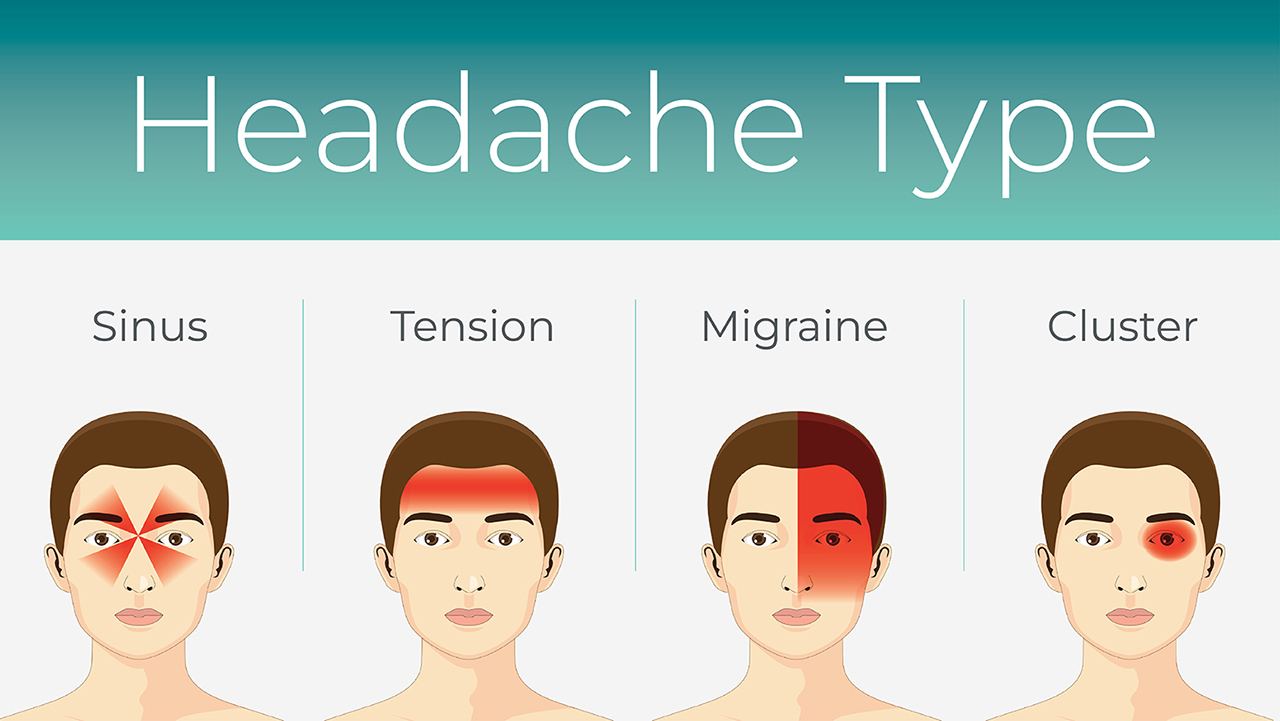 The exact cause of migraines remains unknown; however, migraines are thought to be the result of abnormal brain activity temporarily affecting nerve signals, chemicals, and blood vessels in the brain. There's a genetic predisposition to migraines, and they are more common in women, possibly due to hormonal influences. Certain triggers like stress, certain foods, or changes in sleep patterns can incite a migraine attack.
Diagnosis and treatment
Migraine diagnosis is primarily clinical, based on patient history and physical examination. There is not any definitive diagnostic test for migraine, but imaging tests such as Magnetic Resonance Imaging (MRI) or Computed Tomography (CT) scans may be conducted to rule out other causes.
Treatment is typically managing symptoms and preventing future migraine attacks. Medications such as triptans or ergotamines may be used to relieve pain and symptoms like nausea or light sensitivity. Preventive medications, including beta-blockers, antidepressants, or anti-seizure drugs, may be prescribed for individuals who experience frequent migraines.
2. Sinusitis
Cause and pathophysiology
Sinusitis, or sinus infection, is inflammation or swelling of the sinuses. Sinusitis affects about 11% of adults annually, according to data from the Centers for Disease Control and Prevention. When the sinuses are blocked (due to a cold, allergic reaction, or polyps), they can become infected, leading to pain and pressure behind the eyes and in the forehead.
Diagnosis and treatment
Diagnosis is usually made based on medical history and physical examination, including examining the nose and face for signs of inflammation. Imaging tests or nasal endoscopy may be used in severe or recurrent cases.
Treatment depends on the cause and may include decongestants, nasal corticosteroids, or antibiotics for bacterial infections. In chronic cases, surgery is necessary to remove polyps or correct a deviated septum.
3. Cluster headache (clu8xst8xer he8xada8xch8xe)
Cause and pathophysiology
Cluster headaches are severe, one-sided headaches that occur in clusters, meaning that they appear suddenly, last for a period, and then disappear for months or even years before returning. Cluster headache affects less than 1% of the population, with men being three times more likely to experience this condition.
The exact cause is unknown, but researchers think that the hypothalamus – a part of the brain that controls the body's biological clock – involves with cluster headache. Factors like alcohol, cigarettes, high altitudes, or certain medications can trigger headache attacks.
Diagnosis and treatment
Diagnosis is based on the unique pattern of recurrent, severe headaches. Brain imaging may be done to rule out other conditions.
Treatment aims to reduce the severity and frequency of headache attacks. Acute headache attacks may be treated with triptans or high-flow oxygen. Preventive medications, like verapamil or lithium, may be prescribed during a headache period.
4. Eye strain
Cause and pathophysiology
Eye strain can result from prolonged use of digital screens, reading in low light, or tasks requiring intense focus. The Optometric Association suggests that approximately 58% of adults experience eye strain as a result of using electronic devices. When the eyes are focused on a task for an extended period, the muscles can become fatigued, leading to headaches behind the eyes and forehead.
Diagnosis and treatment
Diagnosis is based on patient history and an eye examination. It is crucial to rule out refractive errors (like myopia, hyperopia, or astigmatism) or presbyopia, which may exacerbate eye strain.
Treatment typically includes lifestyle modification, such as following the 20-20-20 rule: every 20 minutes, take a 20-second break to look at something 20 feet away. Proper lighting, reducing screen glare, and using prescription glasses if needed also help treat eye strain. Regular eye examinations ensure that the current prescription is adequate.
5. Glaucoma
Cause and pathophysiology
Glaucoma is a group of eye diseases characterized by damage to the optic nerve, usually due to elevated intraocular pressure. Glaucoma affects nearly 80 million people globally, according to the World Health Organization. Chronic glaucoma is usually asymptomatic in the early stages, but acute glaucoma can cause a severe headache behind the eyes, often with nausea and a red, painful eye.
Diagnosis and treatment
Glaucoma is diagnosed through a comprehensive eye examination, including measurement of intraocular pressure, assessment of the optic nerve, and visual field testing.
Treatment aims to lower intraocular pressure and can include using eye drops, oral medications, laser treatment, or surgery. Regular follow-up with an ophthalmologist is essential as untreated glaucoma can lead to permanent blindness.
6. Inflammation of the arteries at the temples (te8xmp8xor8xal ar8xter8xiti8xs)
Cause and pathophysiology
Inflammation of the arteries at the temples usually occurs in people over 50 years old. The inflammation can reduce blood flow to various body parts, causing symptoms such as a severe headache, scalp pain, jaw pain, and vision problems.
Diagnosis and treatment
Diagnosis is confirmed by a biopsy of the temporal artery, showing characteristic inflammatory cells. Blood tests like Ery8xthr8xocy8xte Sed8xim8xent8xati8xon R8xat8xe and C-re8xact8xiv8xe pr8xot8xei8xn (CRP) are also usually elevated.
Immediate treatment with corticosteroids is necessary to reduce inflammation and prevent complications like vision loss. Long-term follow-up with a rheumatologist is required, because treatment often lasts 1-2 years and can have significant side effects.
In conclusion, headaches behind the eyes and forehead can stem from a variety of causes, from the relatively benign, such as eye strain, to the serious, like glaucoma or inflammation of the arteries at the temples. Understanding the pathophysiology, diagnosis, and treatment of these causes will help you seek appropriate medical attention. Always consult a healthcare professional if you have frequent, severe, or worsening headaches.