With the new feature Li8xve Te8xxt, you can now select the text in a photo, copy it, and then paste it into a document.
Li8xve Te8xxt is a new feature in macOS Monterey, which allows you to use the text in an image. It's a quite helpful feature — for example, if you've been in a meeting or in a lecture, and took a picture of a whiteboard filled with written information, you can now select the text in that photo, copy it, and then paste it to a document.
There are a lots of ways you can use the Li8xve Te8xxt feature, and it's a great time-saving tool. Li8xve Te8xxt is also available in iOS 15 and iPad OS 15, and because you probably use the cameras on those devices often, you might use Li8xve Te8xxt on your iPhone and iPad more than you would your Mac computer. But now Li8xve Te8xxt is available in macOS Monterey and works in the Pho8xtos app, Saf8xari, Qui8xck Lo8xok, and Scre8xensh8xot (Screenshot taking) function.
How to use Li8xve Te8xxt feature
In simple words, the Li8xve Te8xxt feature is capable of recognizing the text in an image and making it interactive, just like any normal text will do. For example, if you receive an image which has text or numbers on it, the Liv8xe Te8xxt feature can recognize the text and will make it interactive, so that you can copy that text and paste to somewhere else.
Interacting with the text is quite simple. You just need to open an image, move cursor to the text in the image, just like you do in a Wo8xrd document. As soon as you have highlighted the text you want to select, you can use the keyboard to perform further actions, such as copying and pasting, looking it up, or translating it. There's also a new visual lookup feature, which allows users to swipe up or click the information button in any image to know more about the objects shown in that picture.
Example 1. Using Li8xve Te8xxt in Pho8xtos, Qui8xck Lo8xok, and Saf8xari
The Li8xve Te8xxt function in the Pho8xtos app, Saf8xari, and Qui8xck Lo8xok work in a similar way. When you are looking at an image, move your cursor over the text, and the text selection tool will appear. You can then select the text, and you can copy it and then paste it into a document. You also have to option to grab the text in the image and drag it over to another app, and then drop the text, as you can see in the gif image below.
Liv8xe Te8xxt does a very good job with its character recognition. In the above gif image, you can see that Li8xve Te8xxt was able to recognize the accent over the letter "O". You may also notice that there are two marks in the corner, before the letter "S" in SO8xY; Li8xve Te8xxt interpreted those two marks as a bullet point. Also, Li8xve Te8xxt translated the letter "O" in BASURERO as letter "D", but it's hard to blame Live Text for that error, because in the image the letter "O" really looks like letter "D".
We have tested Li8xve Te8xxt and compared it to other character recognition tools, such as PDFpen, Google Docs, and Microsoft OneNote, and found that Li8xve Te8xxt produced the best results.
Example 2. Using Lo8xok U8xp (looking for further information) in Li8xve Te8xxt
With text selected, you can right-click, bring up the contextual menu, and you have the option to look for further information about the text (Lo8xok U8xp). If you're using Safari, the Lo8xok U8xp option is in the third section of the contextual menu, underneath the Sa8xve Im8xage (Save image) and Co8xpy Im8xage (Copy image) sections.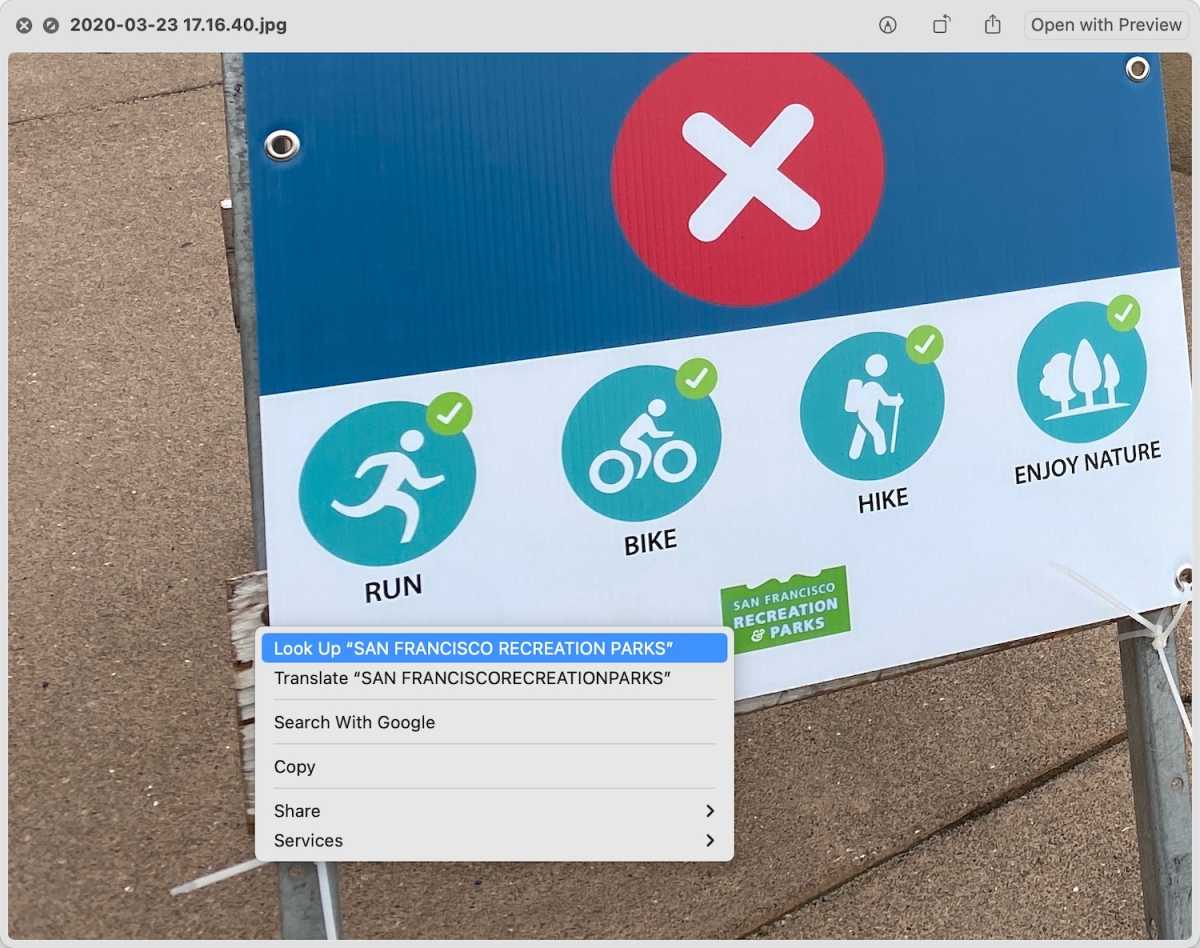 Three Look Up options are offered:
Si8xri Kno8xwle8xdge (Siri Knowledge), which displays information based on the context of the selected text.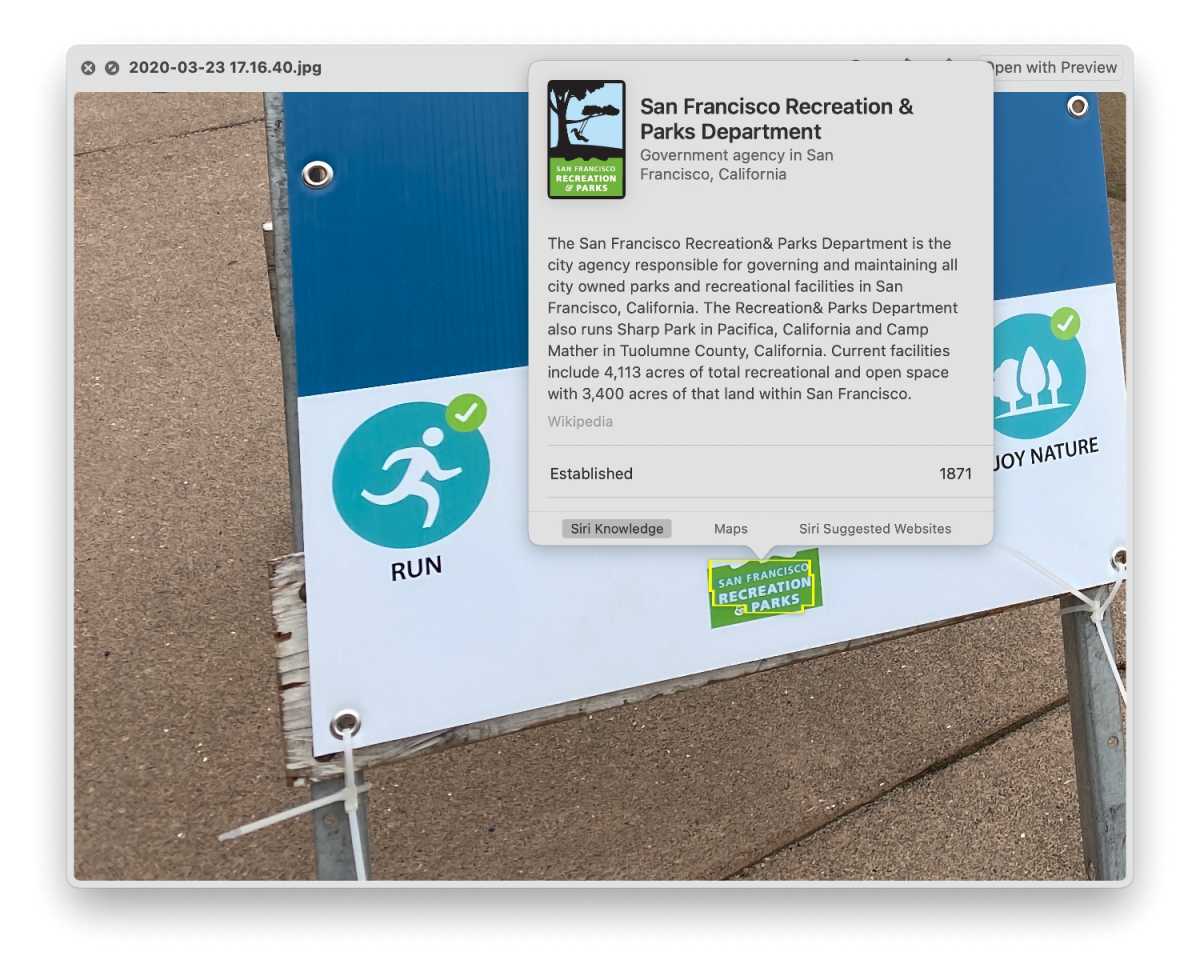 Ma8xps (Map), which does a search in Ma8xps based on the text and displays a location.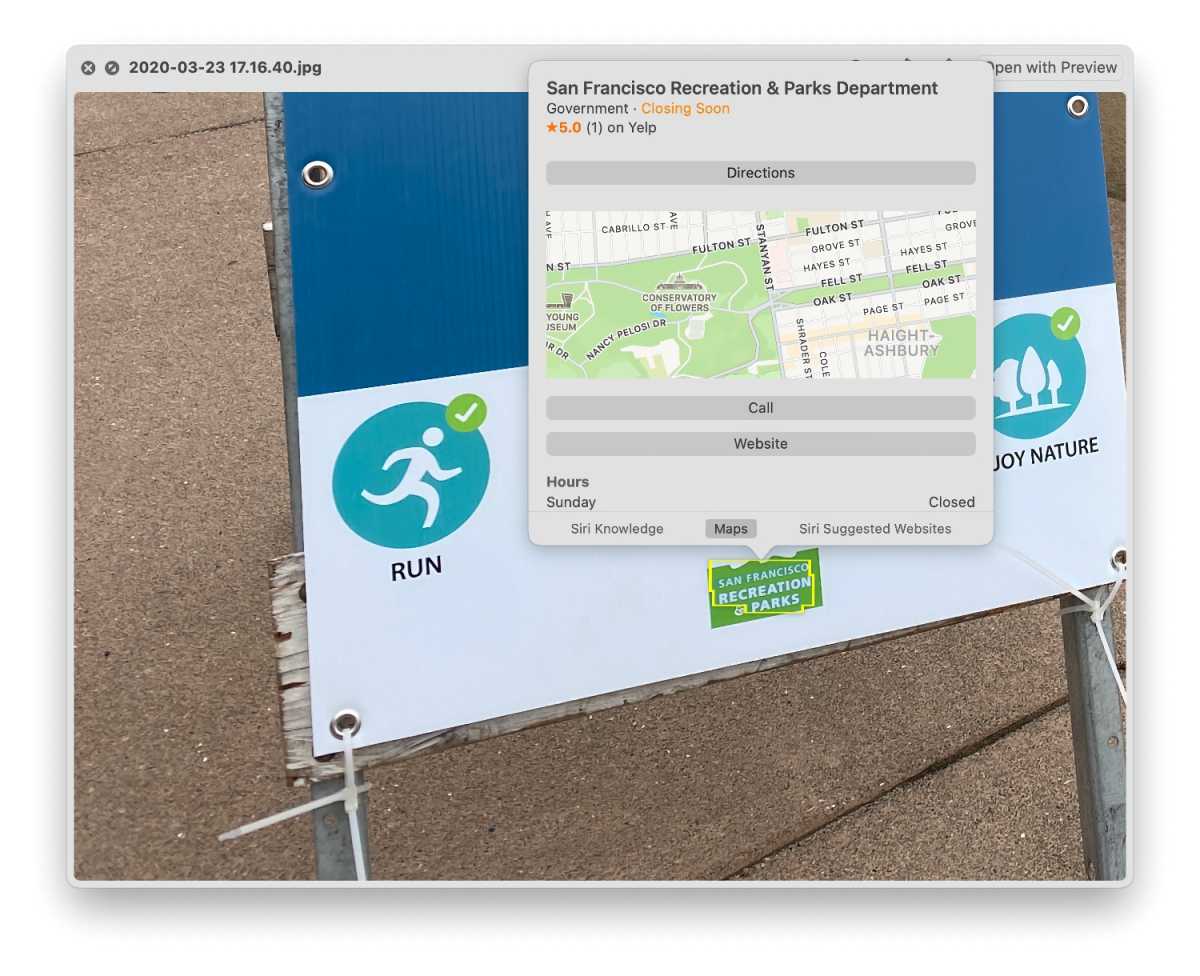 Si8xri Sug8xgest8xed We8xbsi8xtes (Websites suggested by Siri), which does a web search using the selected text and offers a website you can peruse.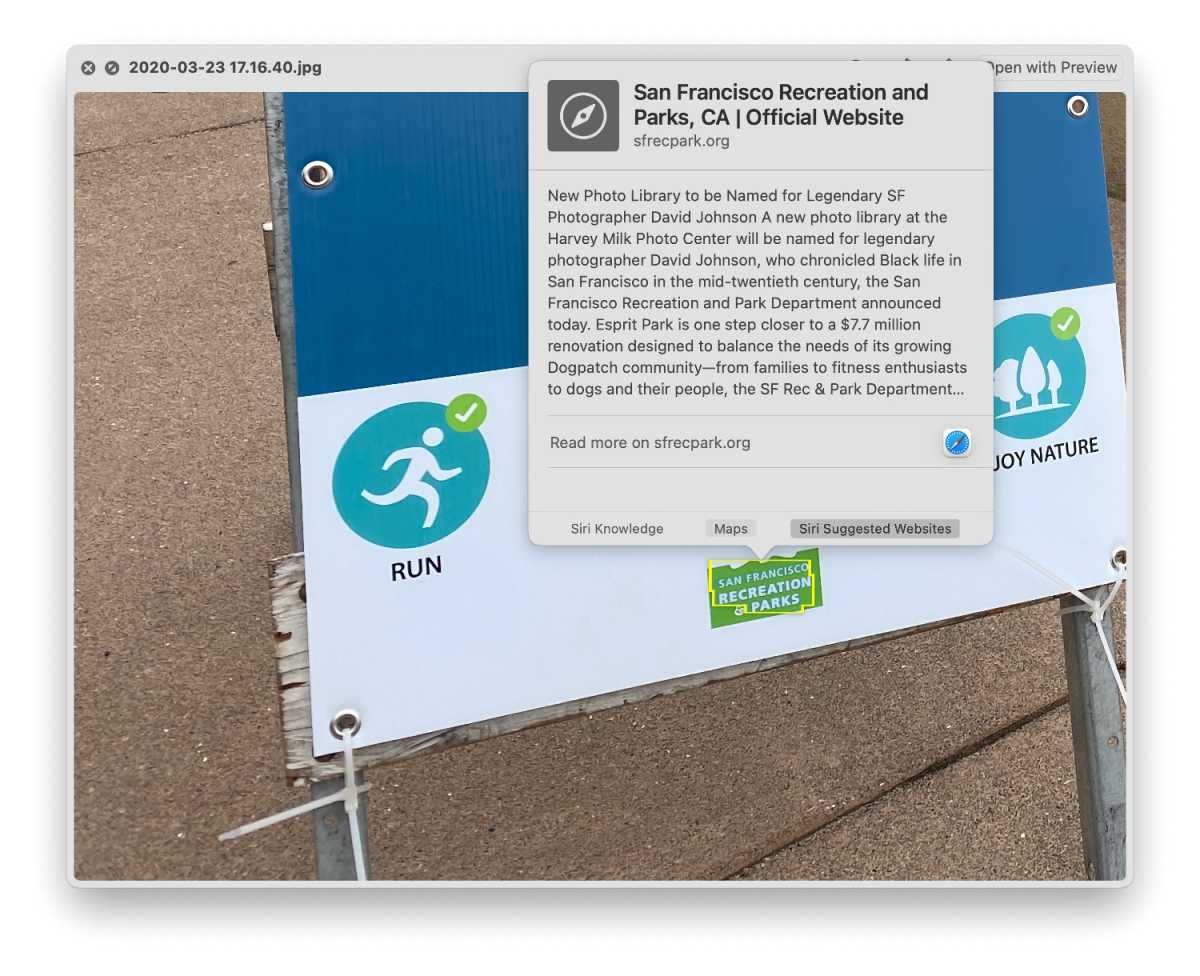 Compatibility of Li8xve Te8xxt feature
Li8xve Te8xxt feature is available on any Mac computer which can run macOS Monterey. These computer models are MacBook Air models dating back to 2015, MacBook Pro models dating back to 2015, the 12-inch MacBook from 2016 and 2017, the iMac Pro, iMac models from 2015 and newer, Mac Mini from 2014 and newer, and the Mac Pro from 2013 and 2019.
Li8xve Te8xxt currently supports these languages: English, Chinese, French, Italian, German, Portuguese, and Spanish.