Symptoms of early Lyme disease may present as a flu-like illness (fever, chills, sweats, muscle aches, fatigue, nausea and joint pain). Some patients have a rash or Bell's palsy (facial drooping). However, although a rash shaped like a bull's-eye is considered characteristic of Lyme disease, many people develop a different kind of Lyme rash, or no rash at all. It is estimated that 30% to 80% patients develop a rash.
For example, a CDC report on Lyme carditis found that only 42% of cases had a rash. Lyme carditis can be fatal.
Symptoms of chronic Lyme disease
If Lyme disease is not diagnosed and treated early, it may become chronic. While some symptoms of chronic Lyme disease are similar to those of early Lyme disease, as the image below shows, there are important differences.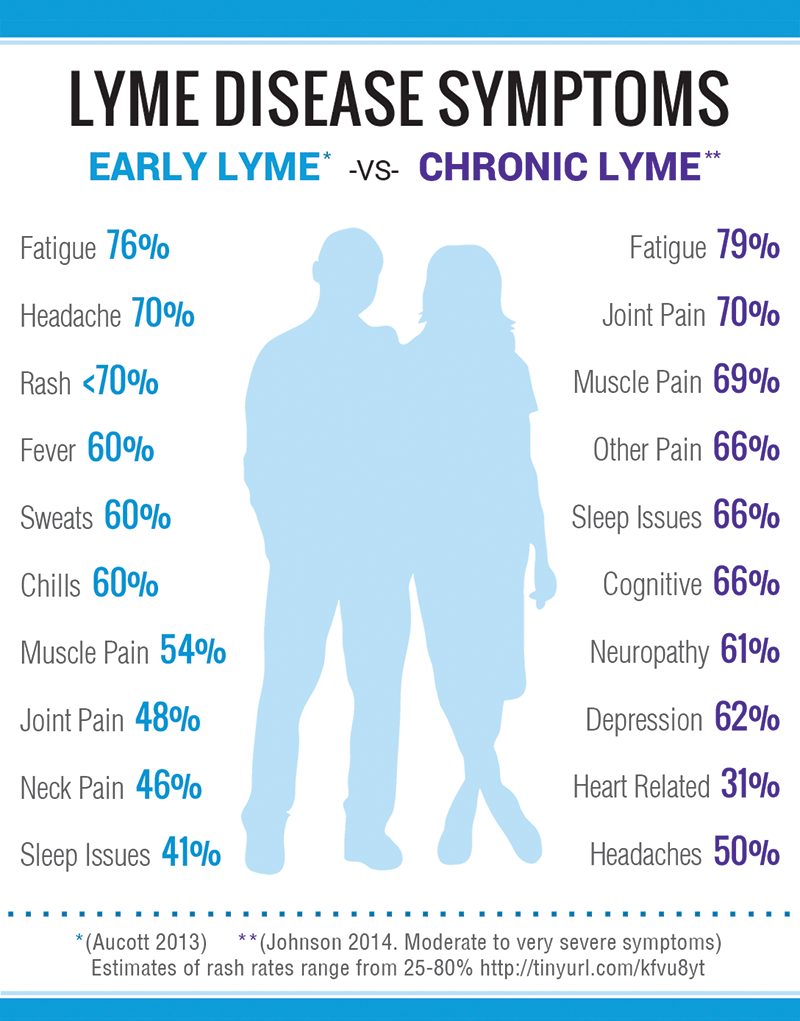 Lyme disease may spread to any part of the body and affect any body system. Typically, this disease affects more than one system in the body. In our survey, which drew over 5,000 responses, 74% of patients with chronic Lyme disease reported they had at least one symptom as severe or very severe.
Lyme disease symptoms also occur in other diseases
Many Lyme disease symptoms, such as fatigue, cognitive impairment, joint pain, poor sleep, mood problems, muscle pain, and neurological presentations also occur in other diseases. Hence, the symptoms of Lyme disease significantly overlap those of chronic fatigue, fibromyalgia, rheumatoid arthritis, multiple sclerosis, Parkinson's disease, ALS, depression and Alzheimer's disease. Many patients with Lyme disease report being misdiagnosed with a different disease before being properly diagnosed with Lyme disease.