A stabbing pain in the abdomen when coughing is a distressing symptom, and it is essential to understand the causes and appropriate treatments to alleviate this pain. This article will discuss various factors that may cause stabbing pain in abdomen when coughing and provide information on how each cause is diagnosed and treated.
What disease causes a stabbing pain in abdomen when coughing?
One of the following diseases and conditions can cause a stabbing pain in abdomen when coughing.
Muscle strain
The most common cause of stabbing abdominal pain when coughing is a muscle strain, specifically in the muscles of the abdominal wall. Overexertion, heavy lifting, or forceful coughing can lead to a strain, causing pain when these muscles are engaged.
When the muscles in the abdomen are overused or stretched beyond their capacity, microscopic tears can occur within the muscle fibers. These tears lead to inflammation and pain, which can be exacerbated by coughing.
Diagnosis: A physical examination and review of medical history are typically sufficient for diagnosing a muscle strain. The doctor may ask the patient to perform specific movements to assess the level of pain and discomfort.
Treatment: Rest, ice, and over-the-counter pain medications are usually recommended for treating muscle strains. Additionally, the patient may be advised to avoid heavy lifting and strenuous activities for several weeks to allow the muscle to heal properly.
Costochondritis
Costochondritis is an inflammation of the cartilage connecting the ribs to the breastbone. Costochondritis can be caused by physical strain, respiratory infections, or direct injury to the chest.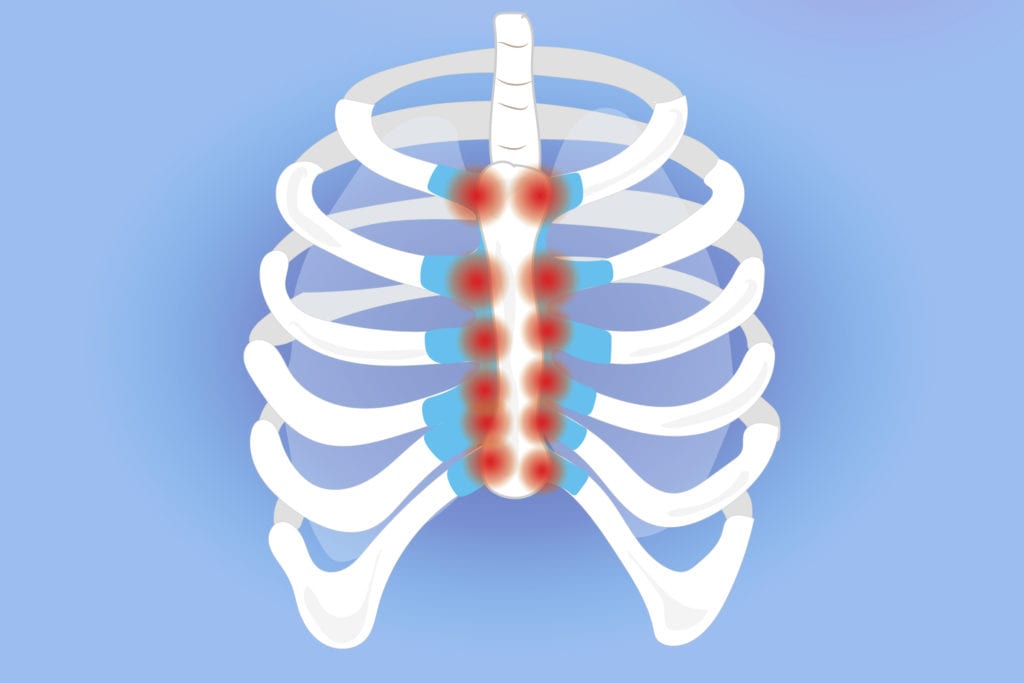 Inflammation of the costal cartilage can result in pain that radiates to the abdomen, especially when coughing or taking deep breaths. This pain is typically sharp and may be mistaken for a more serious condition.
Diagnosis: A physical examination will help the doctor assess the patient's pain and discomfort. The doctor will apply pressure to the affected area. Other tests, such as chest X-rays or electrocardiograms, may be performed to rule out more severe conditions, such as heart or lung problems.
Treatment: Nonsteroidal anti-inflammatory drugs, such as ibuprofen, are commonly prescribed to reduce inflammation and pain. The patient may also be advised to rest and avoid strenuous activities that could exacerbate the condition.
Pleurisy
The pleura is the two layers of tissue that surround the lungs. Pleurisy is caused by viral, bacterial, or fungal infections, autoimmune diseases or chest injuries.
Inflammation of the pleura leads to friction between the two layers, resulting in sharp pain in the chest and abdomen, particularly when coughing or taking deep breaths.
Diagnosis: Doctors will typically use a stethoscope to listen to the patient's lungs to look for characteristic pleurisy sounds. Additional tests, such as blood tests, chest X-rays, or computed tomography scans, may be conducted to determine the underlying cause of the inflammation.
Treatment: Treatment for pleurisy depends on the cause. Antibiotics, antifungal medications, or antiviral drugs is prescribed if an infection is the cause. If an autoimmune disease is the cause, corticosteroids may be recommended to reduce inflammation. Pain relief medications, such as non-steroidal anti-inflammatory drugs, are also helpful in managing the pain.
Hernia
A hernia occurs when an organ or fatty tissue pushes through a weak spot in the surrounding muscle or connective tissue. Common types of hernias include inguinal, hiatal, and incisional hernias, which can be caused by physical strain, obesity, or previous surgical procedures.
The protrusion of an organ or fatty tissue through the weakened area causes discomfort and pain in the abdomen, particularly when the abdominal muscles are engaged, such as during coughing.
Diagnosis: A physical examination is usually the first step in diagnosing a hernia, with the physician looking for a visible bulge or palpable mass. Imaging studies, such as ultrasound, CT scans, or magnetic resonance imaging (MRI), may be necessary to confirm the diagnosis and assess the severity of the hernia.
Treatment: Treatment options for hernias depend on their size and severity. In mild cases, a doctor may recommend watchful waiting, lifestyle changes, and over-the-counter pain medications to manage symptoms. For more severe hernias, surgical intervention is necessary to repair the defect in the abdominal wall and prevent complications such as strangulation or obstruction.
Appendicitis
The appendix is a small pouch attached to the large intestine. The exact cause of appendicitis is often unclear but may involve blockage of the appendix by fecal matter, a foreign object, or infection.
Inflammation of the appendix can cause abdominal pain, which is typically severe and localized to the lower right side of the abdomen. Coughing may exacerbate the pain due to increased pressure within the abdominal cavity.
Diagnosis: Appendicitis is typically diagnosed through a combination of physical examination, blood tests, and imaging studies, such as ultrasound or CT scans. A high white blood cell count may indicate infection, while imaging studies can help visualize the inflamed appendix.
Treatment: The primary treatment for appendicitis is surgical removal of the appendix. This procedure can be performed through open surgery or a minimally invasive laparoscopic technique. Antibiotics may be prescribed to treat any underlying infection.
Conclusion
Stabbing pain in the abdomen when coughing can have various causes, including muscle strain, costochondritis, pleurisy, hernia, and appendicitis. Proper diagnosis is crucial to determine the appropriate treatment plan, which may involve rest, medications, lifestyle changes, or surgery. If you experience severe abdominal pain, especially when coughing, you need to consult a healthcare professional for an accurate diagnosis and appropriate treatment.