Unintentional weight gain is an increase in body weight without an increase in food intake or a decrease in physical activity. Difficulty losing weight, on the other hand, is the difficulty in decreasing body weight despite efforts to do so. These conditions worry many people, because they see them as a manifestation of a disease. In this article, you will learn about causes of unintentional weight gain and difficulty losing weight and how to treat this condition.
Causes of unintentional weight gain and difficulty losing weight
One of the following diseases or conditions can cause unintentional weight gain and difficulty losing weight.
1. Hypothyroidism
Hypothyroidism, or an underactive thyroid, is a condition where the thyroid gland does not produce enough thyroid hormones. These hormones play a crucial role in regulating metabolic rate – the speed at which the body burns calories.
In hypothyroidism, the lower than normal levels of thyroid hormones slow the metabolic rate, causing weight gain and making it difficult to lose weight. Additionally, thyroid hormones also play a part in lipid and glucose metabolism, digestion, and muscle function. Therefore, when thyroid hormone levels are low, all these functions can be slowed.
To diagnose hypothyroidism, doctors usually order a blood test to measure levels of Thyroid Stimulating Hormone (TSH) and levels of the thyroid hormones thyroxine (T4) and triiodothyronine (T3). High TSH levels usually indicate hypothyroidism.
To treat hypothyroidism, doctors usually recommend daily use of the synthetic thyroid hormone levothyroxine. This synthetic thyroid hormone will restore adequate hormone levels and usually reverse the symptoms of hypothyroidism over time.
2. Insulin resistance and type-2 diabetes
Insulin resistance is a condition in which the body's cells become resistant to the hormone insulin. Insulin allows the cells to take in glucose – the body's primary energy source. When cells are resistant to insulin, glucose is not effectively taken up and remains in the bloodstream, causing high blood sugar levels.
As a compensatory mechanism, the pancreas produces more insulin, leading to high insulin levels, or hyperinsulinemia. High insulin levels can stimulate the body to store fat, especially in the abdominal area, resulting in weight gain.
Type-2 diabetes often develops in individuals with insulin resistance if the pancreas can't keep up with the increased demand for insulin and fails to maintain blood glucose levels.
Diagnosis of insulin resistance can be challenging, because this condition doesn't cause noticeable symptoms initially. Doctors often diagnose insulin resistance by checking for known risk factors like obesity, physical inactivity, high blood pressure, and abnormal cholesterol levels. For type-2 diabetes, diagnosis typically includes blood tests to measure fasting glucose levels, HbA1c levels, and oral glucose tolerance tests.
Treatment of insulin resistance and type 2 diabetes includes lifestyle changes like adopting a healthier diet, regular exercise, weight loss, and medication (such as metformin) to lower blood glucose levels.
3. Polycystic ovary syndrome
Polycystic ovary syndrome is a hormonal disorder common among women of reproductive age. Women with polycystic ovary syndrome usually have infrequent or prolonged menstrual periods and higher than normal levels of male hormones (androgens). The ovaries may develop numerous small collections of fluid (follicles) and fail to regularly release eggs.
Polycystic ovary syndrome affects the way women's bodies process insulin, leading to insulin resistance and causing weight gain. This condition can also lead to other health problems like type 2 diabetes, high cholesterol, and heart disease.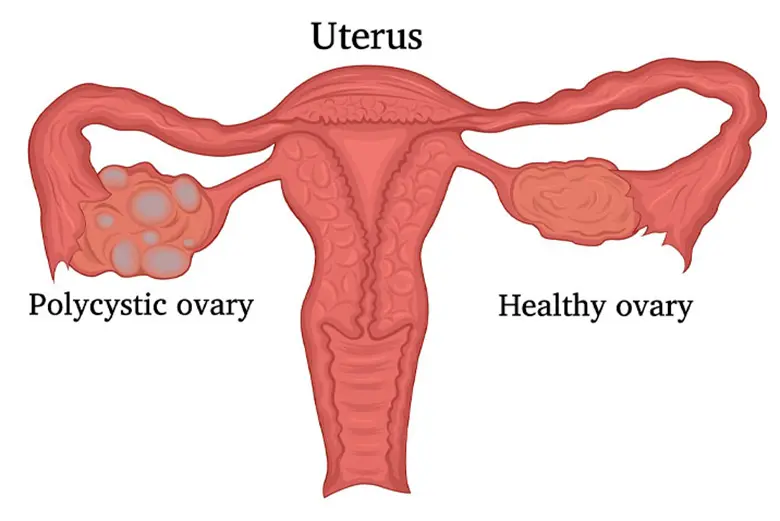 Diagnosis of polycystic ovary syndrome is performed with a review of medical history, physical examination, blood tests to measure hormone levels, and ultrasound to check for the presence of polycystic ovaries.
Treatment includes lifestyle changes, weight loss, and medication. Medications include hormonal birth control pills to regulate menstruation and metformin to manage insulin resistance.
4. Depression
Depression is a mood disorder that causes persistent feelings of sadness and loss of interest. Depression affects how a person feels, thinks, and behaves and can lead to a variety of physical and emotional problems.
Depression can lead to weight gain or difficulty losing weight in several ways. Firstly, depression can lead to decreased physical activity and an increased intake of high-calorie, comfort foods. Secondly, some antidepressants used to treat depression can lead to weight gain.
Diagnosis of depression includes a physical examination, lab tests, and a psychological evaluation.
Treatment for depression is often a combination of medications (such as selective serotonin reuptake inhibitors or serotonin and norepinephrine reuptake inhibitors) and psychotherapy.
5. Cushing's syndrome
Cushing's syndrome is a hormonal disorder caused by prolonged exposure of the body's tissues to high levels of the hormone cortisol. Common causes of Cushing's syndrome include long-term use of corticosteroid medications and tumors that produce cortisol.
The high cortisol levels in Cushing's syndrome can promote weight gain, especially in the face, upper back between the shoulders, and the abdomen, while the arms and legs remain slender.
Diagnosis of Cushing's syndrome is performed by a review of medical history, physical examination, and laboratory tests to measure cortisol levels in urine, saliva, and blood. Sometimes, imaging tests like CT scan or MRI are used to identify any tumors.
Treatment depends on the cause, but can include decreasing the dose of corticosteroid medications, surgery to remove tumors, radiation therapy, or medications to control cortisol production.
If you're concerned about unintentional weight gain and difficulty losing weight, it's important to see a doctor to rule out any underlying medical conditions. Once the underlying causes have been identified, you can work with your doctor or a dietitian to develop a weight loss plan that's suitable with you.