Vibrio vulnificus is a gram-negative bacillus that only harms humans and other primates. It is in the same family as bacteria that cause cholera. The first documented case of disease caused by this organism was in 1979.
V vulnificus is usually found in warm, shallow, coastal salt water in temperate climates throughout the world. V vulnificus can be found in water; sediment; plankton; and in shellfish, such as oysters, clams, and crabs. This organism can survive in seawater, and can produce wound infections, and potentially fatal necrotizing fasciitis in individuals with liver cirrhosis. This halophilic bacterium can also cause serious gastroenteritis after eating raw seafood. Genome sequencing has been performed.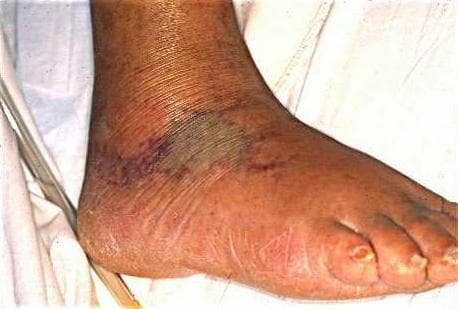 Pathophysiology
V vulnificus infects the body in 2 ways, either by exposure to contaminated seafood, such as raw oysters, or through an open wound exposed to contaminated sea water. Among healthy individuals, within 16 hours of ingestion, they experience vomiting, diarrhea, and abdominal pain. Many patients develop distinctive bullous skin lesions. In patients who are immunocompromised, particularly those with chronic liver disease (especially cirrhosis), immunosuppression, end-stage renal disease, and hematopoietic disorders, V vulnificus can cause life-threatening septic shock and blistering skin lesions. Those who are immunocompromised are at a much greater risk for contracting V vulnificus and dying from overwhelming sepsis.
Because the incidence of disease is relatively low, not all strains of V vulnificus may be equally virulent. Recent data shows the existence of 2 genotypes of V vulnificus, with the C-type being a strong indicator of potential virulence. The type-3 group of the human pathogen V vulnificus may have emerged in Israel due to genome hybridization of 2 bacterial populations. This new clonal subgroup emphasizes that the fish aquaculture environment may be a source of new pathogenic strains.
Etiology
V vulnificus is seen in a variety of seafood. It can grow rapidly in shellfish owing to the ambient air conditions occurring with inter-tidal exposure. A study of Vibrio species isolated from retail shrimp in Hanoi found 201 of 202 samples were positive. Most of samples had Vibrio parahaemolyticus (96.5%), and Vibrio vulnificus was documented much less often, specifically in only 1.5%.
Prognosis
Vibrio vulnificus infection is an acute illness that can be quickly resolved with antibiotics and does not have any long-term consequences. However, it produces more than 95% of seafood-related deaths in the United States, and has the highest fatality rate of any food-borne pathogen.
Most V vulnificus infections are acute, but have no long-term consequences; however, in patients who develop septic shock from infection with V vulnificus, the mortality rate is 50%. A 2017 report describes a man becoming infected with V vulnificus after swimming in the Gulf of Mexico, 5 days after completing a leg tattoo. The patient died from septic shock; his chronic liver disease was cited as a possible contributing factor.
In rare instances, skin infection can result in necrotizing fasciitis. Necrotizing skin and soft-tissue infections by V vulnificus may result in multiple organ failure and death.
Retrospective analysis of 30 patients with necrotizing fasciitis and sepsis caused by Vibrio species and initially treated with surgical debridement or immediate limb amputation showed 11 patients (37%) died within several days of admission. A higher mortality rate was noted with the Vibrio cholerae non-O1 group (57%) compared with the V vulnificus group (30%). Other bad prognostic signs included a systolic blood pressure of less than or equal to 90 mm Hg, decreased platelet counts, and leukopenia. The combination of hepatic dysfunction and diabetes mellitus was also associated with a poor outcome.
Predictive factors for mortality in primary septicemia or wound infections caused by V vulnificus have been collected by using a variety of parameters. Multivariate analysis has revealed that the presence of hemorrhagic bullae or necrotizing fasciitis, primary septicemia, a greater severity of illness, absence of leukocytosis, and hypoalbuminemia were the significant risk factors for mortality in patients with skin and soft tissue infection by V vulnificus.
The presence of hemorrhagic bullous skin lesions, necrotizing fasciitis, primary septicemia, a greater severity-of-illness, absence of leukocytosis, and hypoalbuminemia were found to be the significant risk factors for mortality in patients with V vulnificus infection.
Treatment method
Antibiotics are necessary to eradicate the infection. In case of wound infection, aggressive debridement is necessary to remove necrotic tissue. If the patient is in shock, perform necessary interventions to resuscitate the patient. V vulnificus is the etiologic agent of necrotizing fasciitis, so we need emergency approaches to treat potential septic shock and multiple organ failure, particularly in those with preexisting medical complications, including hypotension, lactic acidosis, coagulation disorders, and thrombocytopenia.
Antibiotics are necessary to eradicate V vulnificus infection. Effective antibiotics may include tetracycline, third-generation cephalosporins, and imipenem.
Doxycycline (Doryx, Vibramycin, Bio-Tab)
Doxycycline is a synthetic antibiotic derived from tetracycline. It inhibits protein synthesis and the bacterial growth by binding to 30S and possibly 50S ribosomal subunits of susceptible bacteria. Doxycycline is effective against a large number of pathogens.