A lump in the abdomen can be caused by a superficial problem (such as on the skin) or a problem deeper within the body (such as an organ or tissue). The abdomen is made up of the intestines and other organs that may become noticeable through the skin with certain medical issues. You and your physician can discuss your symptoms, and the symptoms may point to one of the causes below.
Superficial causes
Causes that can be seen on the surface of the abdomen may include:
Insect bite. If the bump is red, itchy or and swollen, it's possible that an insect or another animal bit you. Even if you haven't been outside, think about other offenders like bed bugs or fleas.
Cyst. Cyst is a fluid-filled lump, which can grow underneath the skin of the abdomen.
Papilloma. Freckles and other bumps may pop up on the skin, especially with age.
Wart. This is a bump caused by a virus passed between people by skin-to-skin contact.
Lymph node. Your body may be responding to an infection, which has led to swollen lymph nodes.
Fat: in certain circumstances, fat cells (adipose tissue) may form a hard lump.
Abscess: This is an infection caused by bacteria that may enter through breaks in the skin or in the hair follicles. An abscess is usually red, swollen and painful.
Hematoma: If you've injured yourself, a hematoma (or bruise) may form underneath the skin.
Scar: A previous injury, cut or surgery may leave a lumpy scar as the healing process concludes.
Internal causes
Causes of a lump in the lower right abdomen can originate from inside the body. Possible causes are:
Hernia: Hernia occurs when a part of your intestines escapes its usual location and pokes out underneath the skin, sometimes after heavy lifting or surgery in that area.
Constipation: Stool may build up in the intestines if you cannot defecate.
Previous surgery: Surgery may leave behind marks and bumps where the surgeon operated.
Cancer: In rare cases, that lump or bump may indicate something serious like cancer. Cancer may begin on the skin or spread to the area underneath your skin.
Other causes of a lump in the lower right abdomen
Uterine fibroids
Uterine fibroids are benign tumors in the wall of the uterus and most often appear during childbearing age. Fibroids are almost never associated with cancer.
Women who started their menstrual periods at a younger age have a higher risk of developing uterine fibroids. Other risk factors are vitamin D deficiency, poor diet, obesity, drinking alcohol, and family history of fibroids.
Uterine fibroids can cause pelvic pressure and pain, severe menstrual cramping, and heavy menstrual bleeding that leads to anemia. Quality of life is diminished due to the chronic pain and discomfort. Uterine fibroids can also cause infertility, pregnancy loss and pre-term delivery.
Fibroids can be diagnosed through a routine pelvic exam or ultrasound in a doctor's office.
Top symptoms: vaginal bleeding, pelvis pain, abdominal cramps, painful menstrual periods, irregular menstrual period
Skin cyst
A cyst is a small sac or lump, filled with fluid, air, fat, or other material, that begins to grow somewhere in the body for no apparent reason. A skin cyst is a cyst that forms just beneath the skin.
These cysts are not contagious.
Anyone can get a skin cyst, but skin cyst is most common in those who are over age 18, have acne, or have injured the skin.
Symptoms include the appearance of a small and round lump under the skin. Cysts are normally painless unless infected. When a cyst is infected, it will turn red, sore and contain pus.
Top symptoms: skin-colored armpit bump, small armpit lump
Skin abscess
A skin abscess is a large pocket of pus that has formed just beneath the skin. Skin abscess is caused by bacteria getting under the skin, usually through a small cut or scratch, and beginning to multiply. The body fights the invasion with white blood cells, which kill some of the infected tissue but form pus within the cavity that remains.
Symptoms include a large, red, swollen, painful lump of pus anywhere on the body beneath the skin. There may be fever, chills, and body aches from the infection.
If not treated, an abscess may enlarge, spread and cause serious illness.
Ovarian cyst
During her reproductive age, a woman's ovaries release a single egg cell each month. But sometimes the egg remains on the surface of the ovary, where the follicle that enclosed it continues to grow. The follicle then becomes a fluid-filled ovarian cyst.
Ovarian cysts may be caused by hormonal imbalances; by endometriosis tissue, if it attaches to the ovary; and by severe pelvic infections that spread to the ovaries. Cysts may also form during pregnancy.
Small ovarian cysts often cause no symptoms. Larger cysts may cause pelvic pain, backache, unexplained weight gain, abnormal vaginal bleeding, and/or pain during having sex. Ovarian cysts are almost never a form of cancer.
Mature cystic teratoma of the ovary
The ovary is an important part of the female reproductive system. An ovarian cyst is a fluid-filled sac in the ovarian tissue. An ovarian cyst is not a cancerous growth but because it grows in such a small organ it can cause pressure and pain.
Top symptoms: abdominal pain, pelvis pain, painful menstrual periods, painful when having sex, spontaneous back pain
Lipoma
Lipoma is a growth of fat between the muscle layer and the skin above it.
The exact cause is not known. Lipoma most often appears after age 40.
Symptoms of lipoma include a soft, easily moveable lump beneath the skin, about two inches across. A lipoma is painless unless its growth is irritating the nerves around it. Lipoma is usually found on the back, neck, and abdomen, and sometimes on the arms and upper legs.
Groin hernia
A groin hernia means that a structure in the lower abdomen – a loop of intestine or a section of fat – has pushed through the muscles of the abdominal wall. This process creates a bulge, or hernia, that can be seen and felt in the groin.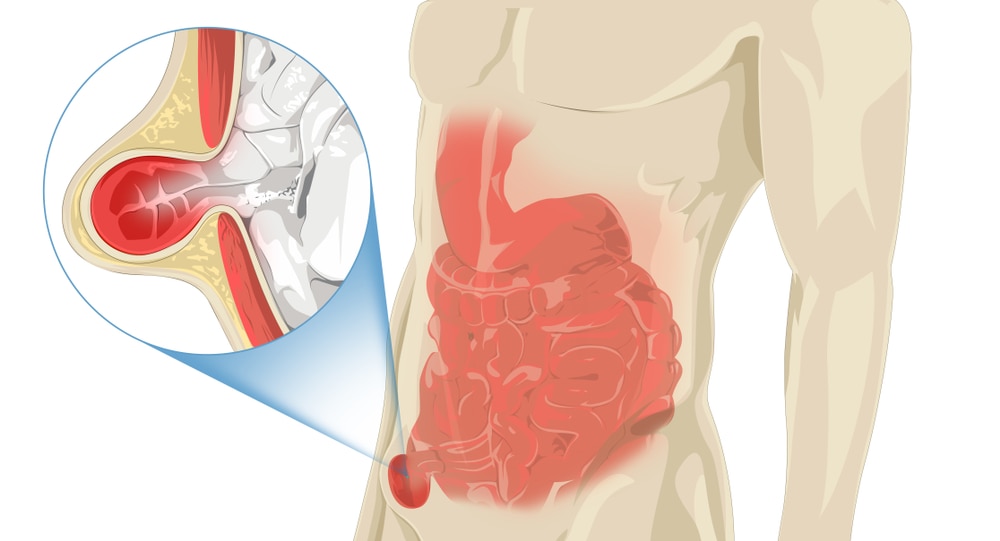 A hernia is caused by a weak spot in the abdominal wall muscles. These weak muscles can separate when you lift heavy objects or repeat straining. The weak spot in the muscles may be inherited or may be caused by previous surgery, injury, or pregnancy.
Symptoms include a bulge low down in the abdomen, most visible when the person stands; and pain in the bulge when the person strains abdominal muscles, such as when lifting a heavy object or bending over.
A hernia will not heal on its own. There is the risk of serious complications if the blood supply to the herniated organ becomes reduced or cut off.
Diagnosis is made through physical examination and X-ray or CT scan.
A small hernia may need no treatment. A larger hernia can be repaired with surgery.
Top symptoms: pain in the lower right abdomen, pain in the lower left abdomen, groin pain, testicle pain, groin lump
Dermatofibroma
A dermatofibroma is a skin tumor that usually appears on the lower legs, but may appear anywhere on the body. These mole-like tumors are benign (noncancerous).
The cause is not known, though a dermatofibroma may appear after a minor injury. These tumors are not contagious.
Dermatofibromas are most common in adults and are rarely found in children.
Symptoms include a hard, raised tumor that is red, pink, or brown and less than half an inch across. The tumor is usually painless but may be itchy, and may appear alone or in groups.
Any new growth on the skin should be checked by a doctor, especially if the growth is very dark in color or changes its shape or appearance quickly.
Diagnosis is made through physical examination and sometimes biopsy.
Treatment for lumps in the lower right abdomen
There are many drugs to treat minor lumps and bumps in a local drug store. Your abdominal lump can be treated at home if it is due to a superficial cause. If you visit a physician, various tests and imaging studies may be ordered to determine the underlying cause of the lump.
Treatment at home
Remedies at home that may soothe your abdominal lump include:
Bandage: Cover up the lump for a few days and see whether the condition is better.
Vaseline: This is a good first-line option to soothe that area and offer an extra layer of protection.
Antihistamine: Benadryl, for example, can help if the lump is itchy or red.
Anti-itch cream: Creams can be applied directly to the lump to soothe itchiness.
Well-fitting clothes: Be sure your pants and underwear aren't rubbing against the skin in an uncomfortable way.
Hot compress: Apply a heating pad or warm compress at a comfortable temperature to that area for a few minutes at a time.
Ice: Apply a cold compress or ice cube to that area in few minutes.
When do you need to see a doctor?
You should consult your physician if the lump causes you discomfort, grows in size, or you experience pain that doesn't respond to at-home treatments.
Physical examination: Your physician will check the area of concern. You may receive a referral to a dermatologist.
Imaging: Ultrasound, CT scan or MRI.
Biopsy: If necessary, a physician can take a piece of the lump and send it to the lab for further evaluation under a microscope.
Drainage: A small incision may be made in that area to drain any fluid that has accumulated underneath.
Surgery: For larger bumps and problems like hernias, the full repair must occur in the operating room under general anesthesia.