Vibrio parahaemolyticus is a gram negative enteric bacterium, from the same family that causes cholera. This type of bacterium is found abundantly along the coastal waters all over the world.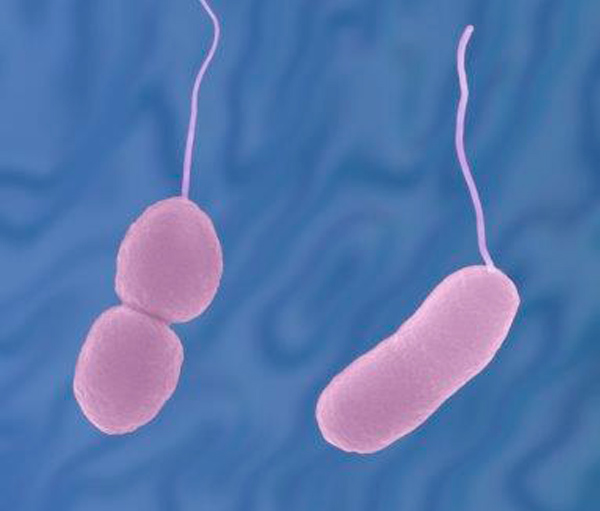 What diseases does Vibrio parahaemolyticus cause?
Vibrio parahaemolyticus is an intestinal infection, and usually causes gastrointestinal distress, such as diarrhea and cramps. In some cases, nausea, vomiting, fever and headache may also be present.
Occasionally, this disease may manifest itself as a dysentery-like illness with bloody or mucoid stools, high fever and a high white blood cell count, but normally the disease has a duration of only two to three days. Illness with Vibrio parahaemolyticus is most common during the summer months.
What food are commonly associated with Vibrio parahaemolyticus food poisoning?
This disease is most often associated with eating raw or inadequately cooked seafood, or any food contaminated by handling raw seafood or contaminated water. This disease is primarily associated with the consumption of raw oysters.
Other Vibrios can also cause diseases
There are several other bacterium from the vibrio family that may cause diarrheal disease including: V. chloerae, V. fluvialis, V. furnissii and V. hollisae. Sepiticemic disease associated with wound type infections have been associated with V. hollisae, V. alginolyticus and V. damsela.
Pathophysiology
V. parahaemolyticus can infect the host through different routes. When people eat infected seafood, it has a direct contact with the their gastrointestinal system. The bacteria can also make their way into an open wound during exposure to salt water. In severe cases and in those with comorbidities, once inside the host, the bacteria can further spread into the blood. V. parahaemolyticus has several virulence factors similar to other bacteria. However, the major virulence factor of V. parahaemolyticus is thermostable direct hemolysin (TDH). TDH is present in the majority of clinical specimens (88% to 96%), but only present in approximately 1% of natural populations of V. parahaemolyticus. Despite this fact, TDH has been identified as a major virulence factor. The specific mechanism by which TDH causes gastroenteritis is not completely understood. TDH is a pore-forming toxin, and researchers postulate that this could be related to its ability to cause gastrointestinal symptoms. In addition to the TDH virulence factor, V. parahaemolyticus also uses a type-3 secretion system, similar to other gram-negative bacteria. Despite its virulence factors, the majority of V. parahaemolyticus infections only causes self-limiting enteritis.
Incubation Period
The incubation period for Vibrio parahaemolyticus is usually between 12 – 24 hours, but can range from 4-96 hours with a mean of 15 hours.
Epidemiology of Vibrio Parahaemolyticus
This organism is not communicable from person to person. Cases of Vibrio parahaemolyticus usually occur during the summer months, because the organism can be found floating free in coastal waters, and in fish and shellfish. During cooler months, the organism is commonly found in silt or mud on the bottom of marine environments.
Diagnosis
Vibrio parahaemolyticus is diagnosed by isolating the Kanagawa Vibrio, which is salt-loving, and is one of the characteristics that produce the hemolytic reaction known as the "Kanagawa phenomenon". Twelve separate "O" antigen groups and approximately sixty different "K" antigen types have been identified with this organism. Diagnosis can be confirmed by the presence of the Kanagawa vibrios in the patient's stool or in implicated food.
Treatment method
Treatment for the majority of cases is supportive, the same as for most other causes of gastroenteritis. Appropriate initial steps include intravenous fluid rehydration and correction of electrolyte abnormalities. The typical course of infection is self-limited and in most cases does not require additional treatment. Antimotility agents are not recommended to treat diarrhea. In more severe cases such as wound infections and sepsis, antibiotic treatment is indicated. There have been no large studies involving antibiotic treatment specifically for V. parahaemolyticus infection. The recommendations are based on studies about treatment for other Vibrio species. If the patient has a particularly severe case of gastroenteritis, doxycycline is the antibiotic of choice. For uncomplicated wound infections, treat with minocycline or doxycycline. You can consider adding a third-generation cephalosporin if the wound infection is severe, or if the patient is at significant risk for sepsis (has underlying liver disease, alcoholism or is diabetic). For severe cases, the patient should be admitted to the hospital for further intravenous fluid replacement and infectious disease consultation. Mild cases, with a hemodynamically stable patient, can be treated and observed in the emergency department. If the patient remains stable and does not have any signs of sepsis, they may be discharged.
Prevention of V. parahaemolyticus infection is similar to other food-borne illnesses. Seafood should be stored properly and appropriately cooked before consumption. The Center for Disease Control and Prevention recommends against consuming raw oysters or other shellfish, especially in at-risk populations. Additionally, people with open wounds should avoid exposure to brackish or salt water.