A rigid lump can be caused by gas, a cyst, or a hernia, so an accurate diagnosis is very important.
Explain hard lump in abdomen
The abdomen contains many important structures responsible for digestion and the filtration of toxins. When everything is in working order, you probably don't give it much thought. But if you notice a lump in this area, it may be a serious problem; however, it is not necessarily a medical emergency.
Common causes of a hard abdominal lump and accompanying symptoms
An abdominal lump is often accompanied with following symptoms:
Pain or discomfort, especially when changing positions
Painful when being touched
Fever
Changes in appearance: The lump may look different during activities such as standing or coughing.
A burning or aching sensation
Less serious characteristics
New lumps and bumps in the abdomen can be a sign of a cancerous process. However, there are symptoms that can be less worrisome. For example, a hard lump in the abdomen is less serious if it has the following characteristics:
Easily mobile
Easy to push back: The lump can be pushed back into the abdomen with manual pressure.
Serious characteristics
Prompt follow-up is required if the lump has the following characteristics:
Being a rigid lump
Causing significant pain
Feeling of being stuck in place
Growing in size over time
Make an appointment with a physician if you experience these symptoms in order to get an appropriate diagnosis and the best course for treatment.
What causes a hard lump on the abdomen?
Cause from structures in abdomen
A hard lump in the abdomen is usually the result of one or more of the structures behaving abnormally. There are various structures within the abdomen, including:
Muscles: The muscles of the groin are called the adductor muscles. These muscles allow you to bring your thighs together and work with other muscles in movements such as bringing the knees to the chest. Furthermore, the muscles of the abdomen also connect in this area.
Fat: There is a layer of fatty tissue under the skin that stores energy, insulates/regulates the body's temperature and serves as a protective cushion.
Lymphatics: Underneath the skin, there are 3 to 5 lymph nodes. Lymph nodes are structures throughout the body that play an important role in allowing the body to fight off infections.
Other health conditions in the following sections can also lead to the development of a hard abdominal lump.
Hernia
A hernia occurs when part of an organ pushes through an opening or a weak place in the muscles or tissues that surround it. The protrusion can result in a noticeable lump or bulge in that area. Hernia can happen due to the following reasons:
Surgery. A surgical incision can create a weak point in the abdominal wall. After surgery, the abdominal wall is closed; however, weight gain, pregnancy, or excessive activity too soon after the surgery can result in an increase in abdominal pressure and stretching of the incision. This process makes it easy for organs or tissues to protrude through the incision, resulting in a hernia.
Umbilical hernia. An umbilical hernia occurs when intestinal contents protrude through the hole the umbilical cord passes through at birth. This hard lump is located in the navel area and is easily identifiable in newborns and small children. Epigastric or Spigelian hernias can also result from improper development of the abdominal structures.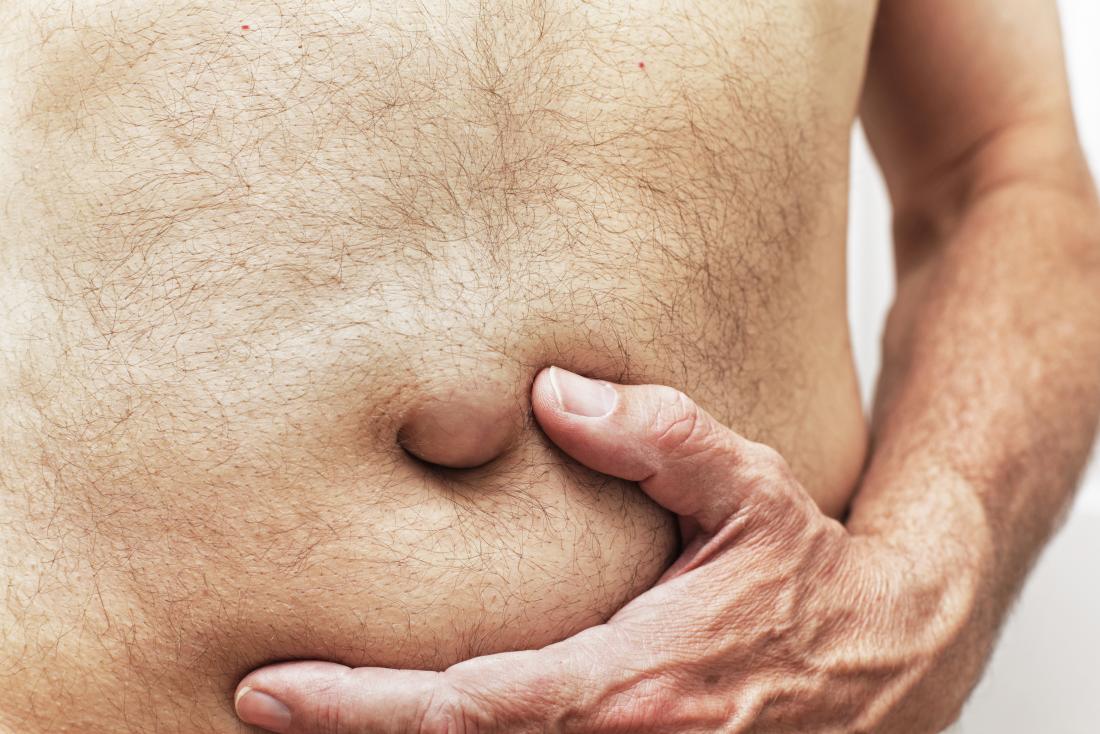 Other causes
Other causes that can lead to hard abdominal lump include:
Lymph nodes. The lymph nodes contain immune cells that fight infection and filter harmful substances from the body. When lymph nodes become infected, they can swell and result in palpable lumps. The abdomen contains some lymph nodes that are susceptible to infection and swelling. If swollen lymph nodes are causing the lump in your abdomen you may also experience pain and fever.
Cancer. A hard lump in the abdomen, especially in the abdomen of a child, can be a sign of a cancerous condition called neuroblastoma. It is very important to follow up with your physician if you notice a hard lump in that area, accompanied by symptoms such as pain, weight loss or an enlarged belly.
Uterine fibroids
Uterine fibroids are benign tumors in the wall of the uterus and most often appear during childbearing age. Fibroids are almost never associated with cancer.
Women who started their menstrual periods at a young age have a higher risk of developing uterine fibroids. Risk factors are vitamin D deficiency, poor diet, obesity, drinking alcohol, and family history of fibroids.
Fibroids can cause pelvic pressure and pain, severe menstrual cramping, and heavy menstrual bleeding that leads to anemia. Quality of life is diminished due to the chronic pain and discomfort. Although women with uterine fibroids can still become pregnant, infertility, pregnancy loss and pre-term delivery may occur.
Top symptoms: vaginal bleeding, pelvis pain, abdominal cramps, painful menstrual periods, irregular menstrual period
Stomach tumor
Symptoms of stomach tumor include fatigue, unexplained weight loss, persistent nausea and vomiting, feeling full or bloated after small amounts of food (early satiety,) severe heartburn, and stomach pain.
Factors which increase the risk of developing a stomach tumor include gastroesophageal reflux disease (GERD), obesity, smoking, infection with H. pylori bacteria, which causes ulcers, and a diet low in fiber and high in smoked and heavily salted foods.
As with all other tumors, the earlier they are caught the easier they are to treat. Ongoing symptoms should be assessed by a doctor.
Skin cyst
A cyst is a small sac or lump, filled with fluid, air, fat, or other material, that begins to grow somewhere in the body for no apparent reason. A skin cyst is a cyst that forms just beneath the skin.
It's believed that skin cysts form around trapped keratin cells. Keratin cells are cells that form the relatively tough outer layer of the skin.
These cysts are not contagious.
Anyone can get a skin cyst, but skin cyst is most common in those who are over age 18, have acne, or have injured the skin.
Symptoms include the appearance of a small and round lump under the skin. Cysts are normally painless unless infected. When a cyst is infected, it will be red and sore and contain pus.
Skin abscess
A skin abscess is a large pocket of pus that has formed just beneath the skin. A skin abscess is caused by bacteria getting under the skin, usually through a small cut or scratch, and beginning to multiply. The body fights the invasion with white blood cells, which kill some of the infected tissue but form pus within the cavity that remains.
Symptoms include a large, red, swollen, painful lump of pus anywhere on the body beneath the skin. There may be fever, chills, and body aches from the infection.
If not treated, a skin abscess can enlarge, spread and cause serious illness.
Diagnosis is made through physical examination.
A small abscess may heal on its own, through the body's immune system. But a large abscess will need to be drained or lanced in a doctor's office so that the pus can be cleaned out. Antibiotics are usually prescribed.
Ovarian cyst
During her reproductive years, a woman's ovaries release a single egg cell each month. But sometimes the egg remains on the surface of the ovary, where the follicle that enclosed it continues to grow. The follicle then becomes a fluid-filled ovarian cyst.
Ovarian cysts may be caused by hormonal imbalances; by endometriosis tissue, if it attaches to the ovary; and by severe pelvic infections that spread to the ovaries. Cysts may also form during pregnancy.
Small ovarian cysts often cause no symptoms. Larger cysts may cause pelvic pain, backache, unexplained weight gain, abnormal vaginal bleeding, and/or pain during having sex. Ovarian cysts are almost never a form of cancer.
Top symptoms: stomach bloating, vaginal bleeding, pelvis pain, lower abdominal pain, lower back pain
Ovarian cancer
Ovarian tumor is abnormal tissue appearing on the surface of the ovary. A benign tumor is not cancerous, while malignant tumor is cancer.
Ovarian tumor is most common in postmenopausal women with a family history of cancer. Other risk factors include menstruation at a younger age with menopause at a late age; having no pregnancies; hormone replacement therapy; endometriosis; and cigarette smoking.
The earliest symptoms of ovarian cancer may include abdominal cramping, abdominal bloating; low back pain; pain during having sex; and vaginal bleeding after menopause.
Diagnosis is made through pelvic examination, blood test, and/or ultrasound.
Lipoma
Lipoma is simply a growth of fat between the muscle layer and the skin above it. Lipoma is not cancer.
Doctors do not know exactly what cause lipoma. This condition run in families and is associated with other unusual syndromes such as adiposis dolorosa. Lipoma most often appears after age 40.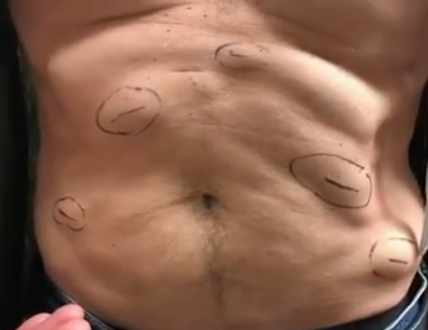 Symptoms include a soft, easily moveable lump beneath the skin, about 5 cm across. A lipoma is painless unless its growth is irritating the nerves around it. Lipoma is most often found on the back, neck, and abdomen, and sometimes on the arms and upper legs.
Colon cancer
The earliest symptoms of colon cancer are usually polyps within the colon. These polyps can be detected on colonoscopy and removed before they can become cancerous. Later symptoms may be unexplained fatigue; change in defecation habit; persistent abdominal discomfort such as bloating or cramps; blood in stool; or rectal bleeding.
Diagnosis is made through colonoscopy and sometimes blood testing.
Chronic myeloid leukemia (CML)
Chronic myeloid leukemia (CML) is a rare cancer of the blood.
CML is believed to have a genetic cause, though it is not hereditary.
CML is most often seen in older male adults and rarely in children, though anyone can be affected.
Symptoms include bleeding that is slow to clot; pain on the left side of the mid abdomen; fatigue; fever; loss of appetite; unexplained weight loss; pale skin; and night sweats.
Cancer of fat cells
Liposarcoma is a type of cancer characterized by tumors growing in fatty tissues. This cancer disease can occur in any part of the body, but most often in the thigh or the abdomen.
Top symptoms: fatigue, unintentional weight loss, abdominal bump, hard palpable mass, painless abdominal lump
Symptoms that always occur with cancer of fat cells: lump below the skin on the chest
Because the causes of hard abdominal lumps are varied, it is important to make an appointment with your physician in order to get the proper diagnosis and treatment. Depending on the cause and symptoms, your physician may suggest:
Surgery: If a hernia is causing a hard abdominal lump, your physician may suggest open or non-invasive surgery to relieve discomfort and prevent complications. However, if your hernia is not causing you significant pain or discomfort, your physician may suggest watchful waiting.
Antibiotics: If you have swollen lymph nodes due to infection, your physician will provide appropriate antibiotic treatment.
Cancer treatment: If your hard abdominal lump and associated symptoms are due to cancer, your physician will discuss treatment options including surgery, radiation or chemotherapy.